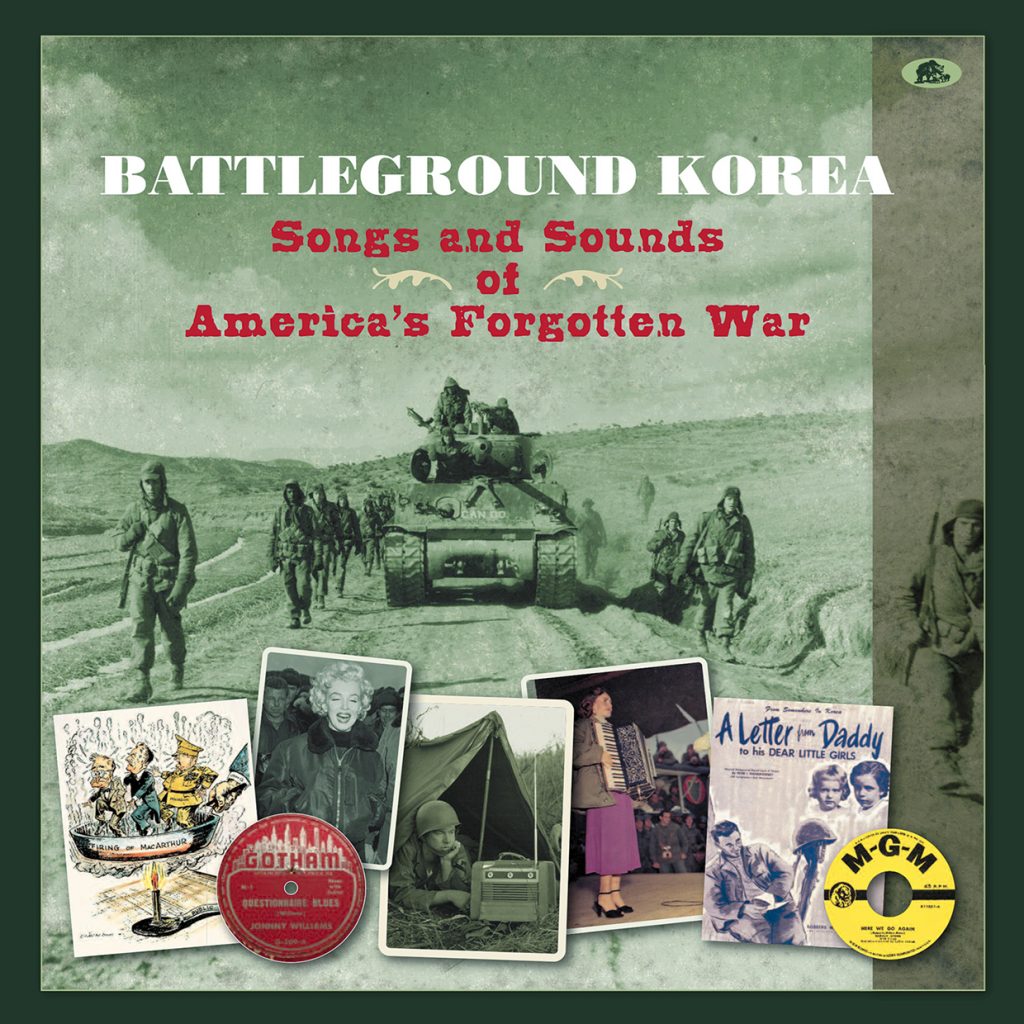 Box set specialist Bear Family are to releasea four CD set 'Battleground Korea: Songs and Sounds of America's Forgotten War', on March 23rd.
Bear Family Records have assembled an impressive four-CD anthology that is part 1950s American soundtrack and part historical document, representing the most comprehensive examination ever assembled of songs inspired by the Korean War.
While the music of the World War II and Vietnam War eras garnered a lot of attention, far less is known about the sounds of the Korea War period, even though it stands as a significant time in American society, from the post-WWII boom years to dawning of the 1960s.
The 121 tracks on the four discs incorporate a full range of U.S. music styles  — blues, R&B, country, folk, bluegrass, gospel and pop — and features country stars like Ernest Tubb, Gene Autry, Jean Shepherd, Tex Ritter, Red Foley, and Merle Travis as well as blues artists including John Lee Hooker, Lightnin' Hopkins, Arthur 'Big Boy' Crudup, and Jimmy Witherspoon. There are songs by rhythm and blues giants such as Fats Domino, Lloyd Price, Dave Bartholomew, and gospel star Sister Rosetta Tharpe, along with the Delmore Brothers, Louvin Brothers, Jim & Jesse, and the Osborne Brothers who are among the bluegrass luminaries in this collection.
Each of the 'Battleground Korea's' discs is organised around a different theme, essentially taking a chronological look at the war. CD 1's songs are about "Going to War," while CD 2 deals with being "In Korea." "On the Homefront" is CD 3's focus and CD 4 explores "Peace And Its Legacies."
One of the well-thought-out aspects of this compilation is that Bear Family created several short narrative-style song-cycles throughout. The "On the Homefront" CD, for example, has "A Dear John Letter," followed by "John's Reply," "Dear Joan" and "Forgive Me John." Another set of songs goes from "Please Daddy, Don't Go to War" to "Why Does the Army Need My Daddy," "God Bless My Daddy" and "Don't Steal Daddy's Medal." The "Peace and its Legacies" disc, meanwhile, strings together a run of tunes that starts with "Leavin' Korea" and ends with "Back Home."
This anthology also does a clever job of pairing songs. Arthur Crudup's "The War Is Over" followed by Lightnin' Hopkins' "The War Is Over." B.B. King's "Questionnaire Blues" precedes John Lee Hooker's version.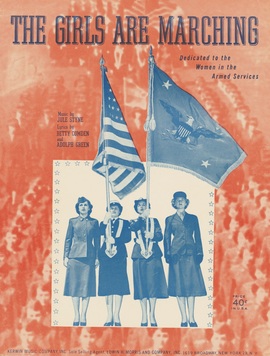 CD 1, in fact, contains renditions of "Korea Blues" done by Fats Domino, Clifford Blivens with the Johnny Otis Band, and Willie Brown. Bear Family have dug deep to discover tunes for this set, and certainly came up with some interesting obscurities including Hank Harral and His Palomino Cowhands on "When They Raised the UN Flag In South Korea," Cactus Pryor and his Pricklypears' tune "(In Again, Out Again) Packing Up My Barracks Bags Blues," and "When They Drop the Atomic Bomb" from Jackie Doll and his Pickled Peppers?
There is much more to 'Battleground Korea', however, than just the songs; archival non-musical material is woven in throughout including General Douglas MacArthur as well as excerpts of speeches by presidents Harry Truman and Dwight Eisenhower. There are field reports from war correspondents and public service announcements from Vic Damone and even cartoon character Howdy Doody.
Click here to hear a previously unheard song from the collection.
The box comes with a 160-page, full-color hardcover book, with liner notes from music scholar Hugo A. Keesing detailing background information on every song and recording artist.
Fully illustrated, the book also is packed with vintage photographs, flyers, advertisements, record covers, magazines, and other period memorabilia. Special chapters include an interview with country singer Frankie Miller about his time in Korea, a nine-page section with some rare photographs of Marilyn Monroe's visit with the U.S. troops, and a history of the Korean War.
"Battleground Korea" arrives at a timely moment, with Korea a frequent subject in the news and the U.S. government having a particularly fraught relationship with North Korea. This highly relevant box set provides a compelling collection of period music and historical perspective into the sights and sounds of America's forgotten war.