The 1927 Bristol Sessions, dubbed the 'Big Bang" of Country music and where the Carter Family, Jimmie Rodgers, and other vintage country music stars recorded their earliest discs for Victor Records is well-known – another important series of session took place in 1928 and 1929 when Columbia cut 53 different artists starting on October 15th, 1928.
The German reissue company and box set specialists Bear Family  are to release 'The Johnson City Sessions 1928-1929: Can You Sing or Play Old-Time Music?'
October 15 marked the 85th anniversary of the first day of the 1928 sessions, and Johnson City will be remembering the occasion this weekend with concerts, radio shows, and the official release of the box set on Saturday, October 19th.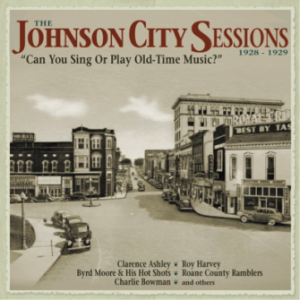 'The Johnson City Sessions' box set contains all of the existing recordings from those sessions – 100 songs – on four CDs, and features several well-known old-time country musicians, including Clarence 'Tom' Ashley and Charlie Bowman. The box set will also include a de-luxe 136-page booklet offering information about the sessions co-authored by Dr. Ted Olson, a professor of Appalachian Studies at East Tennessee State University, and Tony Russell, the British music historian. Olson and Russell previously worked together on the 'The Bristol Sessions: The Big Bang of Country Music'.
Events will include the album's official release party on October 19th at the Down Home, and a recording of the 'Mountain Stage' radio show at ETSU featuring Darrell Scott and Tim O'Brien, Sarah Jarosz, and the ETSU Old Time Pride Band.
For more information on the Johnson City Sessions Weekend and the new box set, visit the Birthplace of Country Music's website at www.birthplaceofcountrymusic.org.
Tracklist:
CD 1: Shell Creek Quartet: My Boyhood Days • Back Where The Old Home Stands • Grant Brothers & Their Music: When A Man Is Mar- ried • Goodbye My Honey – I'm Gone • Tell It To Me • Johnson Boy • Roane County Ramblers: Home Town Blues • Southern No. 111 • Step High Waltz • Tennessee Waltz • Renus Rich & Carl Bradshaw: Goodbye Sweetheart • Sleep Baby Sleep • Clarence Green & Wise Brothers: Pride Of The Ball • Kitty Waltz • Clarence Green: Johnson City Blues • Ninety-Nine Years In Jail • Proxi- mity String Quartet: Lindy • Louise • Greensboro Boys Quartet: Sing Me A Song Of The Sunny South • Sweet Little Girl Of Mine • Richard Harold: The Battleship Maine • The Fisher's Maid • Sweet Bird • Mary Dear
CD 2: Bowman Sisters: My Old Kentucky Home • Swanee River • Charlie Bowman & His Brothers: Roll On Buddy • Gonna Raise The Ruckus Tonight • Bill & Belle Reed: You Shall Be Free • Old Lady And The Devil • The Reed Children: I'll Be All Smiles Tonight • I Once Did Have A Sweetheart • McVay & Johnson: Ain't Going To Lay My Armor Down • I'll Be Ready When The Bridegroom Comes • Earl Shirkey & Roy Harper: Steamboat Man • When The Roses Bloom For The Bootlegger • Poor Little Joe • We Parted At The Gate • George Roark: I Ain't A Bit Drunk • My Old Coon Dog • Ed Helton Singers: A Storm On The Sea (The Sinking Of The Steamship Vestris) • My Old Cottage Home • Garland Brothers & Grinstead: Just Over The River • Beautiful • McCartt Brothers & Patterson: Green Valley Waltz • Over The Sea Waltz • Blalock & Yates: Morning Star Waltz • Pride Of The Ball • Jack Jackson: Flat Tire Blues • My Alabama Home
CD 3: George Wade & Francum Braswell: Think A Little • When We Go A Courtin' • Jack Jackson: In Our Little Home Sweet Home • I'm Just A Black Sheep • Roane County Ramblers: Free A Little Bird – 1930 Model • Johnson City Rag • Callahan Rag • Alabama Trot • Wyatt & Brandon: Evalina • Lover's Farewell • Roy Harvey & Leonard Copeland: Just Pickin' • Beckley Rag • Underneath The Sugar Moon • Lonesome Weary Blues • The Spindale Quartet: Sweet Peace The Gift Of God's Love • God Will Take Care Of You • Face To Face • Lift Him Up • Earl Shirkey & Roy Harper: The Virginian Strike Of '23 • The Policeman's Little Child • My Yodeling Sweetheart • I'm Longing To Belong To Someone • We Have Moonshine In The West Virginia Hills • A Hobo's Pal • Moatsville String Ticklers: The West Virginia Hills • Moatsville Blues
CD 4: Weaver Brothers: You Came Back To Me • Prison Sorrows • Byrd Moore & His Hot Shots: Frankie Silvers • The Hills Of Tennessee • Careless Love • Three Men Went A Hunting • Bateman Sacred Quartet: Nothing Like Old Time Religion • Some Day • Fred Ri- chards: My Katie • Danville Blues • Clarence Ashley: Dark Holler Blues • The Coo-Coo Bird • Little Sadie • Naomi Wise • The Bent- ley Boys: Down On Penny's Farm • Henhouse Blues • Bowman Sisters: Railroad Take Me Back • Old Lonesome Blues • Ephraim Woodie & The Henpecked Husbands: Last Gold Dollar • The Fatal Courtship • Ira & Eugene Yates: Powder And Paint • Sarah Jane • Ellis Williams: Buttermilk Blues • Smokey Blues