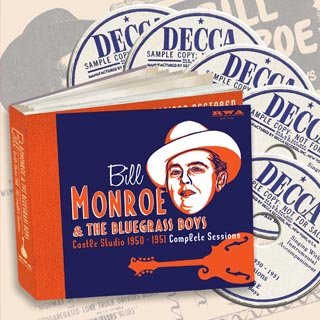 Rhythm Bomb Records is set to release a new, five CD set of Bill Monroe recordings featuring everything he cut for Decca in 1950 and 1951 including sessions with Jimmy Martin and Carter Stanley as lead vocalist, with all the alternate takes captured in the studio.
The box set, Bill Monroe & The Bluegrass Boys – Castle Studio 1950-1951, Complete Sessions, is packaged as a 78 rpm album, with extensive notes from Dick Spottswood, a revised discography by Neil Rosenberg, and remembrances from Blue Grass Boys fiddler Charlie Smith who started with Munroe a few years after these sessions were cut.
A full track listing is shown on the Rhythm Bomb web site.
Only 1000 of these box sets will be produced, selling for 79.99 € (roughly $85 US), and releasing on February 24. Pre-orders are available now online.
Information from Bluegrass Today.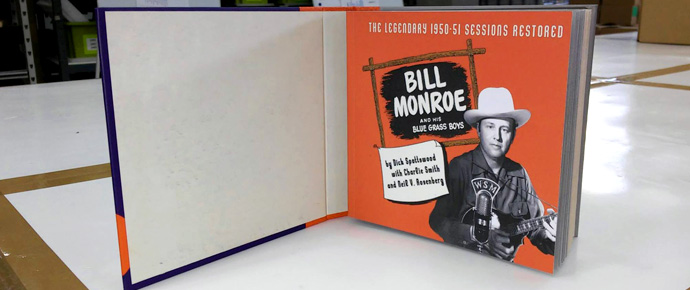 CD One: 1. Blue Grass Ramble (instrumental) (take 1) 2. Blue Grass Ramble (instrumental) (take 2) 3. Blue Grass Ramble (instrumental) (take 3) OP 1950 4. New Mule Skinner Blues (take 1) 5. New Mule Skinner Blues (take 2, false start) 6. New Mule Skinner Blues (take 3) OP 1950 7. New Mule Skinner Blues (take 4) 8. My Little Georgia Rose (take 1) 9. My Little Georgia Rose (take 2, false start) 10. My Little Georgia Rose (take 3) 11. My Little Georgia Rose (take 4, fasle start) 12. My Little Georgia Rose (take 5) OP 1950 13. Memories Of You (take 1) 14. Memories Of You (take 2) 15. Memories Of You (take 3, false start) 16. Memories Of You (take 4) OP 1950 17. I'm On My Way To The Old Home (take 1) 18. I'm On My Way To The Old Home (take 2) OP 1952 19. Alabama Waltz (take 1) 20. Alabama Waltz (take 2, false start) 21. Alabama Waltz (take 3, false start) 22. Alabama Waltz (take 4) 23. Alabama Waltz (take 5) 24. Alabama Waltz (take 6, false start) 25. Alabama Waltz (take 7, false start) 26. Alabama Waltz (take 8) OP 1950 27. I'm Blue, I'm Lonesome (take 1) 28. I'm Blue, I'm Lonesome (take 2) 29. I'm Blue, I'm Lonesome (take 3) 30. I'm Blue, I'm Lonesome (take 4) 31. I'm Blue, I'm Lonesome (take 5) 32. I'm Blue, I'm Lonesome (take 6) OP 1950 33. I'll Meet You In Church Sunday Morning (take 1, false start) 34. I'll Meet You In Church Sunday Morning (take 2) 35. I'll Meet You In Church Sunday Morning (take 3) OP 1951 36. I'll Meet You In Church Sunday Morning (take 4) 37. Boat Of Love (take 1) 38. Boat Of Love (take 2, false start) 39. Boat Of Love (take 3) 40. Boat Of Love (take 4) OP 1950
CD Two: 1. The Old Fiddler (take 1, breakdown) 2. The Old Fiddler (take 2, breakdown) 3. The Old Fiddler (take 3, breakdown) 4. The Old Fiddler (take 4) 5. The Old Fiddler (take 5, false start) 6. The Old Fiddler (take 6) 7. The Old Fiddler (take 7) 8. The Old Fiddler (take 8) OP 1950 9. Uncle Pen (false start) 10. Uncle Pen (take 2) OP 1951 11. When The Golden Leaves Begin To Fall (take 1) 12. When The Golden Leaves Begin To Fall (take 2) 13. When The Golden Leaves Begin To Fall (take 3, breakdown) 14. When The Golden Leaves Begin To Fall (take 4) OP 1951 15. Lord Protect My Soul (take 1, false start) 16. Lord Protect My Soul (take 2) 17. Lord Protect My Soul (take 3, false start) 18. Lord Protect My Soul (take 4) 19. Lord Protect My Soul (take 5) 20. Lord Protect My Soul (take 6) OP 1951 21. River Of Death (take 1/2, breakdown) 22. River Of Death (take 3, false start) 23. River Of Death (take 4, breakdown) 24. River Of Death (take 5) OP 1951 25. Letter From My Darlin' (take 1) OP 1952 26. On The Old Kentucky Shore (take 1) 27. On The Old Kentucky Shore (take 2/3, breakdown) 28. On The Old Kentucky Shore (take 4) 29. On The Old Kentucky Shore (take 5) OP 1951 30. Raw Hide (instrumental) (take 1, breakdown) 31. Raw Hide (instrumental) (take 2) 32. Raw Hide (instrumental) (take 3, false start) 33. Raw Hide (instrumental) (take 4) 34. Raw Hide (instrumental) (take 5) 35. Raw Hide (instrumental) (take 6) OP 1952
CD Three: 1. Poison Love (take 1, breakdown) 2. Poison Love (take 2, breakdown) 3. Poison Love (take 3, breakdown) 4. Poison Love (take 4, breakdown) 5. Poison Love (take 5, breakdown) 6. Poison Love (take 6, breakdown) 7. Poison Love (take 7, false start) 8. Poison Love (take 8) 9. Poison Love (take 9, breakdown) 10. Poison Love (take 10, breakdown) 11. Poison Love (take 11 false start, 2 breakdowns) 12. Poison Love (take 12 false start, breakdown) 13. Poison Love (take 13, false start) OP 1951 14. Kentucky Waltz (take 1) 15. Kentucky Waltz (take 2) 16. Kentucky Waltz (take 3) OP 1951 17. Prisoner's Song (take 1, false start) 18. Prisoner's Song (take 2) OP 1951 19. Swing Low, Sweet Chariot (take 1) 20. Swing Low, Sweet Chariot (take 2) 21. Swing Low, Sweet Chariot (take 3, breakdown) 22. Swing Low, Sweet Chariot (take 4) OP 1951 23. Angels Rock Me To Sleep (take 1) 24. Angels Rock Me To Sleep (take 2, false start) 25. Angels Rock Me To Sleep (take 3, false start) 26. Angels Rock Me To Sleep (take 4) 27. Angels Rock Me To Sleep (take 5, breakdown) 28. Angels Rock Me To Sleep (take 6) OP 1951 29. Brakeman's Blues (take 1, breakdown) 30. Brakeman's Blues (take 2, false start) 31. Brakeman's Blues (take 3) OP 1951 32. Travelin' Blues (take 1) 33. Travelin' Blues (take 2 false start, breakdown) 34. Travelin' Blues (take 3) 35. Travelin' Blues (take 4, breakdown) 36. Travelin' Blues (take 5) OP 1951
CD Four: 1. When The Cactus Is In Bloom (take 1, breakdown) 2. When The Cactus Is In Bloom (take 2) 3. Sailor's Plea (take 1) 4. Sailor's Plea (take 2) 5. Sailor's Plea (take 3, breakdown) 6. Sailor's Plea (take 4) OP 1952 7. Sailor's Plea (take 5, breakdown) 8. Sailor's Plea (take 6) 9. My Carolina Sunshine Girl (take 1, breakdown) 10. My Carolina Sunshine Girl (take 2, breakdown) 11. My Carolina Sunshine Girl (take 3) 12. My Carolina Sunshine Girl (take 4, breakdown) 13. My Carolina Sunshine Girl (take 5) OP 1989 14. Ben Dewberry's Final Run (take 1) 15. Ben Dewberry's Final Run (take 2, breakdown) 16. Ben Dewberry's Final Run (take 3) OP 1989 17. Peach Pickin' Time In Georgia (take 1, 2 false starts) 18. Peach Pickin' Time In Georgia (take 2, false start, breakdown) 19. Peach Pickin' Time In Georgia (take 3,false start) OP 1964 20. Those Gambler's Blues (take 1, breakdown) 21. Those Gambler's Blues (take 2, false start, breakdown) 22. Those Gambler's Blues (take 3, false start) OP 1989 23. Highway Of Sorrow (take 1, false start, breakdown) 24. Highway Of Sorrow (take 2) 25. Highway Of Sorrow (take 3) OP 1951 26. Rotation Blues (take 1) 27. Rotation Blues (take 2) 28. Rotation Blues (take 3, breakdown) 29. Rotation Blues (take 4, breakdown) 30. Rotation Blues (take 5) 31. Rotation Blues (take 6, breakdown) 32. Rotation Blues (take 7, breakdown) 33. Rotation Blues (take 8, breakdown) 34. Rotation Blues (take 9) OP 1951
CD Five: 1. Lonesome Truck Driver's Blues (take 1, breakdown) 2. Lonesome Truck Driver's Blues (take 2) 3. Lonesome Truck Driver's Blues (take 3, breakdown) 4. Lonesome Truck Driver's Blues (take 4) OP 1951 5. Sugar Coated Love (take 1) 6. Sugar Coated Love (take 2, breakdown) 7. Sugar Coated Love (take 3) 8. Sugar Coated Love (take 4) 9. Sugar Coated Love (take 5) OP 1951 10. Cabin Of Love (take 1) 11. Cabin Of Love (take 2) 12. Cabin Of Love (take 3) 13. Cabin Of Love (take 4) OP 1953 14. You're Drifting Away (take 1) 15. You're Drifting Away (take 2) 16. You're Drifting Away (take 3) OP 1953 17. Get Down On Your Knees And Pray (take 1) 18. Get Down On Your Knees And Pray (take 2, breakdown) 19. Get Down On Your Knees And Pray (take 3) 20. Get Down On Your Knees And Pray (take E1) 21. Get Down On Your Knees And Pray (take E2) 22. Get Down On Your Knees And Pray (take E3) 23. Get Down On Your Knees And Pray (take 3, master) OP 1951 24. Christmas Time's A-Coming (take 1, false start & breakdown) 25. Christmas Time's A-Coming (take 2, breakdown) 26. Christmas Time's A-Coming (take 3, breakdown) 27. Christmas Time's A-Coming (take 4) 28. Christmas Time's A-Coming (take 5, breakdown) 29. Christmas Time's A-Coming (take 6) OP 1951 30. The First Whippoorwill (take 1) 31. The First Whippoorwill (take 2, false start) 32. The First Whippoorwill (take 3, breakdown) 33. The First Whippoorwill (take 4, breakdown) 34. The First Whippoorwill (take 5, breakdown) 35. The First Whippoorwill (take 6) 36. The First Whippoorwill (take 7) OP 1951 OP 2017, except where noted