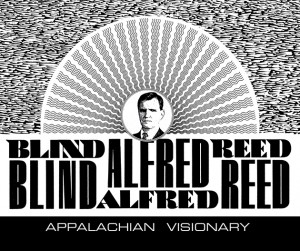 "Alfred Reed's story is that of a man looking within to find a light by which to navigate the darkness within and without." – Ted Olson
Dust-to-Digital are soon to release a compilation of recordings by the legendary Blind Alfred Reed. Born blind on June 15th, 1880, in Floyd County, Virginia, Alfred Reed grew up on a West Virginia farm. In the 1920s, when radio became available in his area, Alfred listened to and enjoyed performances by several of the era's popular singers. Alfred would purchase songbooks and hymnbooks, and his wife Nettie would read the lyrics to him.
Because the songs he learned from others did not always express aspects of what he was thinking, feeling, and experiencing, Alfred felt compelled to compose his own songs, and he was exceptionally talented in this endeavor — a craftsman with many things to say.
Relying upon his talent to generate money for supporting his family, he played music on the streets of nearby towns, gave music lessons, performed at dances and various social and church gatherings, sold printed copies of his own lyrics, and, in 1927 and 1929, made the commercial recordings included on this set.
'Appalacian Visionary' CD in hardcover, with an 84-page book featuring extensive liner notes by Ted Olson.
Watch YouTube clip of Blind Alfred Reed's 'How Can A Poor Man Statnd Such Times And Live?'
Read about Ry Cooder covering Blind Alfred Reed's 'You Must Unload' at a show in New York on November 15th, 2015:
Watch Bruce Springsteen perform Blind Alfred Reed's 'How Can A Poor Man Stand Such Times And Live' in New Orleans after Hurricane Katrina.