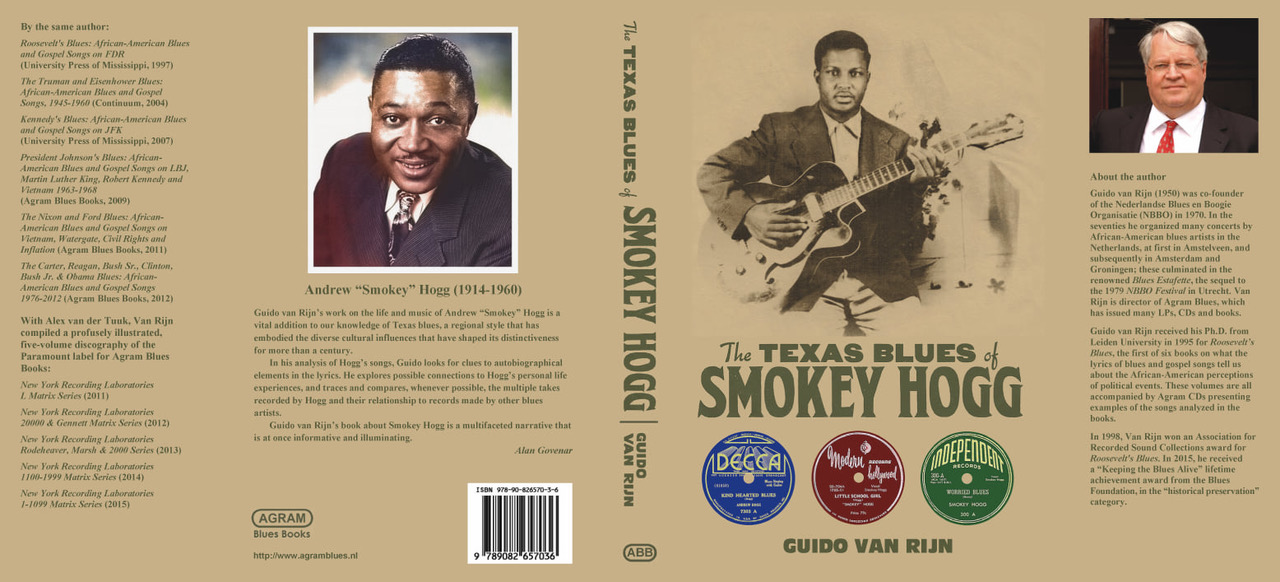 Out before the holiday season Guido van Rijn's biography of Smokey Hogg praises to be a blues fans Xmas treat.
Texas bluesman Andrew 'Smokey' Hogg was a singer, guitarist and pianist who moved to the West Coast after World War 2.
Andrew Hogg was born in Rusk County, Texas in 1914. He learned to play guitar and piano, and in the mid 1930s, he played around Texas juke-joints and bars with slide guitarist Black Ace (B.K. Turner). In February 1937, he was in Dallas where he recorded for the Decca label, and at the same session he played guitar on four tracks by pianist 'Whistlin' Alex Moore.
He served in the Army the war and when he returned to Dallas he recorded a series of songs that were leased to the Bihari Brothers' Modern label in Los Angeles. He also recorded for the Bullet label, singing and playing piano over the guitar of Frankie Lee Sims.
In 1948, Smokey moved to the West-coast and went into Modern Records' studio with pianist Hadda Brooks, and his second single 'Long Tall Mama' was a national R&B hit. A stream of singles followed, including a cover of John Lee 'Sonny Boy' Williamson's 'Good Morning Little Schoolgirl', which again made the national charts in 1950.
Switching to Art Rupe's Specialty label, Smokey released singles for them, and a couple more for Exclusive, while Modern were still releasing material from those 1947 Dallas sessions.
Smokey then recorded for a number of other labels: Independant, Sittin' In With, Jax, Jade, Macy's, the Bihari's Modern, RPM and Meteor imprints, as well as Lew Chudd's Imperial, Mercury, Combo, Top Hat and Colony, while further sides were leased to Fidelity, Federal and Showtime.
He had a couple of singles released by Ray's Records of Pasadena in 1957, and made his final sides for the Ebb label later that year.
In total Smokey released almost 70 records in just over 10 years. Smokey returned to Texas and continued to play around the Dallas area until he passed away in McKinney at the age of 46, just before the US blues revival made his style of down home and country Blues popular again.