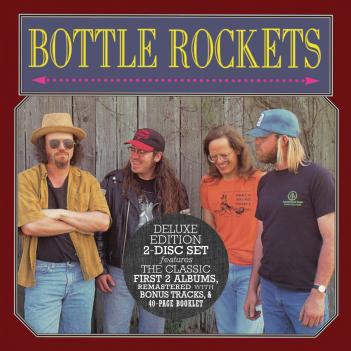 'Bottle Rockets' and 'The Brooklyn Side' are to be reissued as a remastered two-CD deluxe reissue set by Bloodshot Records.
These are long deleted albums with an 19 previously¬†unreleased tracks. The package consists of a 40-page booklet¬†detailing the band in full context of¬†the 1990s alt.country scene with contributions from Steve¬†Earle,¬†Patterson Hood, (of the Drive By Truckers), Lucinda Williams, and many others.¬†Both reissued albums and bonus material have been ¬†remastered under the supervision of famed¬†producer and musician¬†Eric 'ÄúRoscoe'ÄĚ Ambel.
Bottle Rockets¬†was originally released in 1993 and was¬†the first true showing of the band'Äôs signature country aware,¬†rough and ragged rock 'Äėn'Äô roll style, matched¬†with blue-collar songwriting skills, with¬†lyrics depicting the life and struggle of¬†everyday people. The eponymous album features¬†back-up vocal performances from former members of¬†Uncle Tupelo, Jeff Tweedy¬†(now of¬†Wilco) and¬†Jay Farrar¬†(now front the brilliant Son Volt). Bonus tracks include original demos from backed by the members of¬†Uncle Tupelo, acoustic demos, and¬†Chicken Truck/pre-Bottle Rockets-era recordings.
In 1994, 'The Brooklyn Side'¬†came out to a relatively¬†greater amount of significant success, marked both by¬†its stature in the now burgeoning alt.country scene and¬†as The Bottle Rockets'Äô most popular effort to date.
Following the album release, the band later signed with major label Atlantic Records, toured widely. Bonus songs for The Brooklyn Side reissue include acoustic demos, unreleased tracks from the album sessions, and live recordings from the era.
Listen to 'Indianapolis' by The Bottle Rockets with Uncle Tupelo.