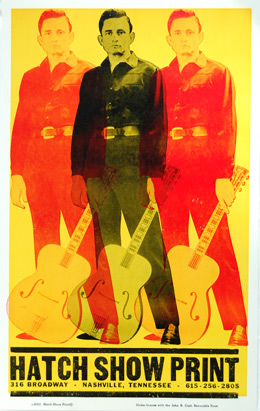 Chelsea Space is to present the first UK exhibition dedicated to American letterpress printed music industry posters from Nashville in November and December.
The posters printed using the letterpress process provide a rare opportunity to view archive material and some stunning country music posters. Originally established in 1879, the print shop, Hatch Show Print who produced the iconic posters used strong design to convey information to the widest possible audience.
Hatch's design success is associated with posters for Country and Americana music – but they also did work for the likes of blues singer Bessie Smith as well a country music giants such as Hank Williams, Johnny Cash, Elvis Presley, Dolly Parton, Merle Haggard, as well as artists such as Aretha Franklin and Neil Young.
Hatch Show Print also printed posters for religious meetings and travelling shows and they also produced designs for local businesses, advertisements and political rallies.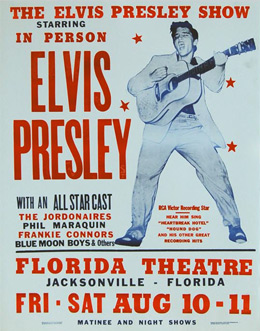 Using archive artifacts, photographs, film, and poster from the 1920s to the present day, this exhibition explores Hatch's history and its respected art and design work.
Hatch Show Print is one of the oldest letterpress print shops in the U.S.A.
Now owned and operated by the Country Music Hall Of Fame and Museum and overseen by Hatch Show Print Curator and Manager Jim Sherraden, the shop not only maintains the original, hand-carved wood blocks and letterpress machines for re-producing classic designs, but also creates new art that continues the venerable firm's tradition.
The exhibition commences on November 13th through to 14th December and will be accompanied by a range of talks, lectures, and music events to celebrate Hatch Show Print and the 'Nashville Calling' exhibition.
Chelsea Space is located at Chelsea College Of Art And Design
, 16 John Islip Street
, London SW1P 4JU Phone: 0207 514 6983