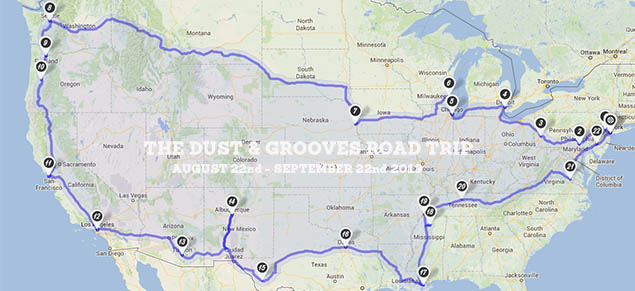 Dust & Grooves Road Trip: Digging for America's Finest Record Collectors will take place between August 22nd and September 22nd, 2013.
The purpose of the this trip is to document and photograph vinyl record collectors throughout the U.S.A. and gather material for the upcoming book project.
During the trip, we will also be partnering up with independent vinyl record companies, artists, and labels to celebrate and promote the vinyl record medium through The Big Vinyl Giveaway.
Along our route, daily giveaways will be hidden at record stores and music related stops. Once planted, clues will be dropped on our social media outlets and website to help you find the giveaways. By the end of the trip, we will raffle off a Tucker & Bloom Rich Medina 45 bag full of vinyl goods we would pick in our travels to one lucky person. Check out our updates and follow #bigvinylgiveaway on our social media channels.
Please read the big vinyl giveaway Terms & Conditions before entering and to maximize your chances to win the Tucker & Bloom bag.
The Big Vinyl Giveaway commences on August 20th. Hash tag for Tweeters isn  #bigvinylgiveaway