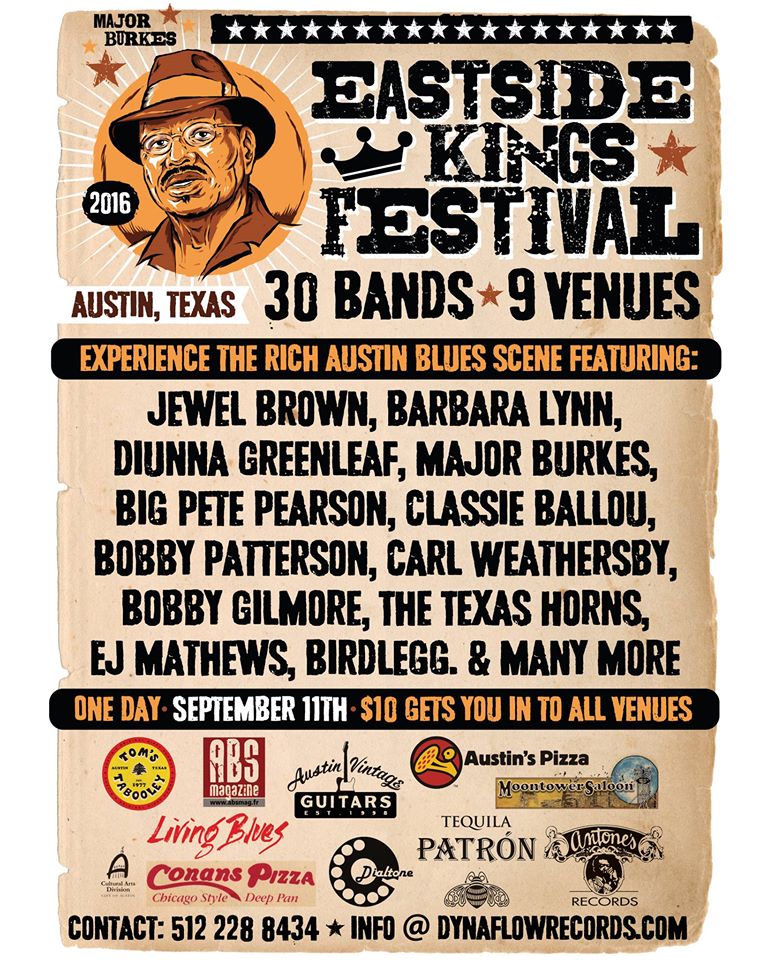 The line up for this years Eastside Kings Festival produced by Eddie Stout will take place on September 11th & 12th in Austin, Texas. The festival has some fantastic blues and R&B artists including Bobby 'How Do You Spell Love' Patterson; Barbara Lynn, Jewel Brown (check out her new album 'Roller Coaster Boogie) in Dynaflow Records; Blues Boy Hubbard; Major Burkes; Ray Reed, Orange Jefferson; Birdlegg; (all featured in Blues & Rhythm Magazine) Carl Weathersby; R&B legends Curley Mays & Classie Ballou plus many more.
You can see these great artists as follows: (Wristbands  $10)
BAD LANDS
D Soul Review: House Band: Disciples with Hash Brown
8:00-8:45 Greg Smith
9:00-9:45 'Da Captain' Watson
10:00-10:45 Ernie Johnson
11:00-12:00 Bobby Patterson
MISSION POSSIBLE PARKING LOT
House Band: The Texas Horns
5:30-6:15 Barbara Lynn
6:25-7:10 Diunna Greenleaf
7:30-8:30 Jewel Brown
KING BEE LOUNGE
House band: Bill Campbell bass, PeeWee Stephens piano, Charles, 'W.C.' Clark,
and Blues Boy Hubbard.
8:00-9:00 Keith Dunn
9:30-10:30 Big Pete Pearson Duck and Blocker
11:00-12:15 Major Burkes with the Texas Horns
FULL CIRCLE BAR
House Band: Ray Reed
7:00-7:30 Orange Jefferson
7:30-8:00 TT Brown
8:30- 9:30 Birdlegg
10:00-10:30 Brown Sugar
10:30-11:00 Jabo
DOZEN STREET BAR
House Band, Mike Keller, Nico Leophonte, Jason bass
8:00-9:00  Carl Weathersby
9:30-10:30 Bobby Gilmore
11:00-12:00 Curly Mays & Classic Ballou
BIG EASY BAR & GRILL
7:30-8:30 Trinity Newby with Hot Attacks
9:00-10:00 Hot Attacks
10:30-11:30 E. J. Mathews band
URBAN CO-LAB
6:30-7:30 Darius Jackson
8:00-9:10 Jackie Venson band
JTS BODY SHOP
House Band: Port Arthur Blues Kings
5:30-6:30 Mrs. Candy
6:45-7:45 Ginger Barber
There is also a fundraiser at Moontower Saloon, 10212 Manchaca Road Austin, Texas РJune 25th, from 1:00pm to  ­ 11:00pm. Free to the public. Line up is as follows:
1:00 ­ 2:00   Hot Attacks
2:20 ­ 3:20   Jai Malano
3:40 ­ 4:40   E.J. Mathews
5:00 ­ 6:00   Andrea Dawson
6:20 ­ 8:40   Soul Supporters
9:00 ­ 11:00  Eastside Kings with
Bobby Gilmore, Da Captain, Soul Man Sam, Birdlegg
Orange Jefferson, Jabo, Mac MacItosh
There will be $2.00 Raffle tickets for a Fender Stratocaster signed by Jimmie Vaughan.
Drawing to be held June 25th at Moontower, you do not need to be present to win.
Buy tickets at Moontower 10212 Manchaca Rd, Austin, Texas or mail $2.per ticket to Eastside King Foundation, P.O.Box 684822, Austin, Texas. 78768, Eddie Stout will mail you back your tickets. Winning number will be posted on: facebook.com/EastsideKingsFestival/
All proceeds to be donated to the Eastside Kings Foundation, a Nonprofit
organization to preserve African American Blues, Jazz and Gospel.
Tel: Eddie Stout on 512 228 8434
Thanks to: Moontower Saloon and Austin Vintage Guitars