In 1929 and 1930, a series of recording sessions  which produced over 100  released tracks of blues, country, jazz, and gospel music, along with other tracks that went unissued were waxed at Knoxville's St. James Hotel, on Union Avenue which is long gone.
The German record company Bear Family, is planning to release a box set of the existing recordings soon.
The 2016 Knoxville Stomp Festival of Lost Music, set for May 5th – 8th, will feature a weekend long downtown event will include live music, speakers, panels, film screenings, a 78 record collectors' show, and a corresponding exhibit at the East Tennessee History Museum that will run from April 11th to October 16th.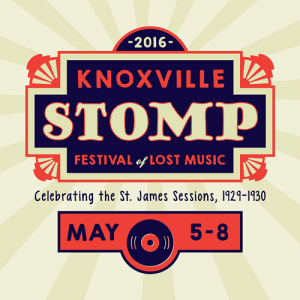 Headliners will includea live show by  Dom Flemons, a co-founder of the Carolina Chocolate Drops, a North Carolina string band that takes its name from the Tennessee Chocolate Drops, one of the acts that recorded at the St. James Hotel.  Amanda Petrusich, whose 2014 book, 'Do Not Sell At Any Price: The Wild, Obsessive Hunt for the World's Rarest 78 rpm Records', which explored the world of old-time and blues music collectors, will also appear, as will the legendary 'King Of Record Collectors'  Joe Bussard, from Maryland whose efforts in the 1950s and '60s preserved much of the music we now have from the 1920s and '30s.
Also appearing will be Tony Russell, a noted UK music historian and Bear Family co-founder Richard Weize.
The Knoxville sessions are noted for their diversity, especially compared to similar recording sessions around the same time in Johnson City and Bristol, which were largely old-time and country music. The St. James recordings were more cosmopolitan, reflecting a vibrant urban culture that's barely remembered. Reeves says this project can help restore some of that lost history.