Taste, Rory Gallager's first band are the subject of a four-CD boxset due on August 28th.
'I'll Remember' will include remastered versions of the band's two studio albums, 'Taste' and 'On The Boards, as well as plenty of previously unreleased material including live concert recordings from Stockholm's Konserthuset, BBC radio broadcasts from John Peel's  Top Gear sessions and the Woburn Abbey Festival.
The set will also include demo recordings made in July 1967 at Belfast's Maritime Hotel. The book will contain rare and previously unseen photographs.
Taste (originally known as The Taste) were formed Cork, Ireland, in August 1966 as a blues power trio in August 1966 lead by Rory with Eric Kitteringham on bass, and Norman Damery on drums.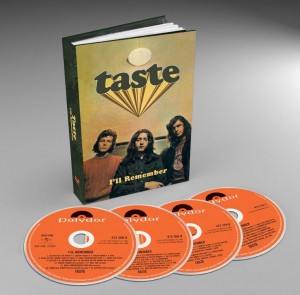 In 1968 Taste began performing in the UK with a new lineup featuring with Richie McCracken on bass and John Wilson on drums. They made their debut 45 for the Irish based Major Minor record label – 'Blister on the Moon' / 'Born On The Wrong Side of Time' which was later reissued by Polydor in edited format. Blister on the Moon" / "Born on the Wrong Side of Time".
When Rory and Taste moved to London they signed with Polydor. In 1968 the band, along along with prog rockers Yes toured with Cream at their farewell concert tour.  They also toured the USA and Canada with the ill fated Blind Faith supergroup.
In 1970 they played a legendary Friday night spot at the Isle of Wight Festival tearing the festival apart with a fantastic set of blues rock – on the same bill as Jimi Hendrix and The Who.
Later the same year Taste toured Europe and were finally disbanded by Rory, who decided to pursue a solo career, performing their last show on New Year's Eve in 1970.
Full Track Listing:
Disc One – Taste
Blister On The Moon
Leaving Blues
Sugar Mama
Hail
Born On The Wrong Side of Time
Dual Carriageway Pain
Same Old Story
Catfish
I'm Moving On
Blister On The Moon – Alt Version
Leaving Blues – Alt Version
Hail – Alt Version
Dual Carriageway Pain – Alt Version – No Vocal
Same Old Story – Alt Version
Catfish – Alt Version
Disc Two – On The Boards
What's Going On
Railway and Gun
It's Happened Before, It'll Happen Again
If The Day Was Any Longer
Morning Sun
Eat My Words
On The Boards
If I Don't Sing I'll Cry
See Here
I'll Remember
Railway and Gun – Off The Boards mix
See Here – Alt Version
It's Happened Before, It'll Happen Again – Take 2 – Beat Club audio 1970
If The Day Was Any Longer – Beat Club audio 1970
Morning Sun – Beat Club audio 1970
It's Happened Before, It'll Happen Again – Take 1 – Beat Club audio 1970
Disc Three – Live In Stockholm and London 1970
What's Going On – Live in Stockholm – September 1970
Sugar Mama – Live in Stockholm – September 1970
Gambling Blues – Live in Stockholm – September 1970
Sinner Boy – Live in Stockholm – September 1970
At The Bottom – Live in Stockholm – September 1970
She's 19 Years Old – Live in Stockholm – September 1970
Morning Sun – Live in Stockholm – September 1970
Catfish – Live in Stockholm – September 1970
I'll Remember – BBC Radio One – Live from the Paris Theatre 1970***
Railway and Gun – BBC Radio One – Live from the Paris Theatre 1970***
Sugar Mama – BBC Radio One – Live from the Paris Theatre 1970***
Eat My Words – BBC Radio One – Live from the Paris Theatre 1970***
Catfish – BBC Radio One – Live from the Paris Theatre 1970***
*** Off-air recordings
Disc Four – Taste Mark I – Belfast Sessions and Demos / 7" single and Live at Woburn Abbey Festival 1968
Wee Wee Baby – Major Minor demo
How Many More Years – Major Minor demo
Take It Easy Baby – Major Minor demo
Pardon me Mister – Major Minor demo
You've Got To Pay – Major Minor demo
Norman Invasion – Major Minor demo
Worried Man – Major Minor demo
Blister On The Moon – A-Side of the Major Minor 7" single
Born On The Wrong Side of Time – B-Side of the Major Minor 7" single
Summertime ( Instrumental ) – Live at Woburn Abbey Festival 1968
Blister On The Moon – Live at Woburn Abbey Festival 1968
I Got My Brand On You – Live at Woburn Abbey Festival 1968
Medley – Rock Me, Baby / Bye Bye Bird / Baby Please Don't Go / You Shook Me, Baby – Live at Woburn Abbey Festival 1968