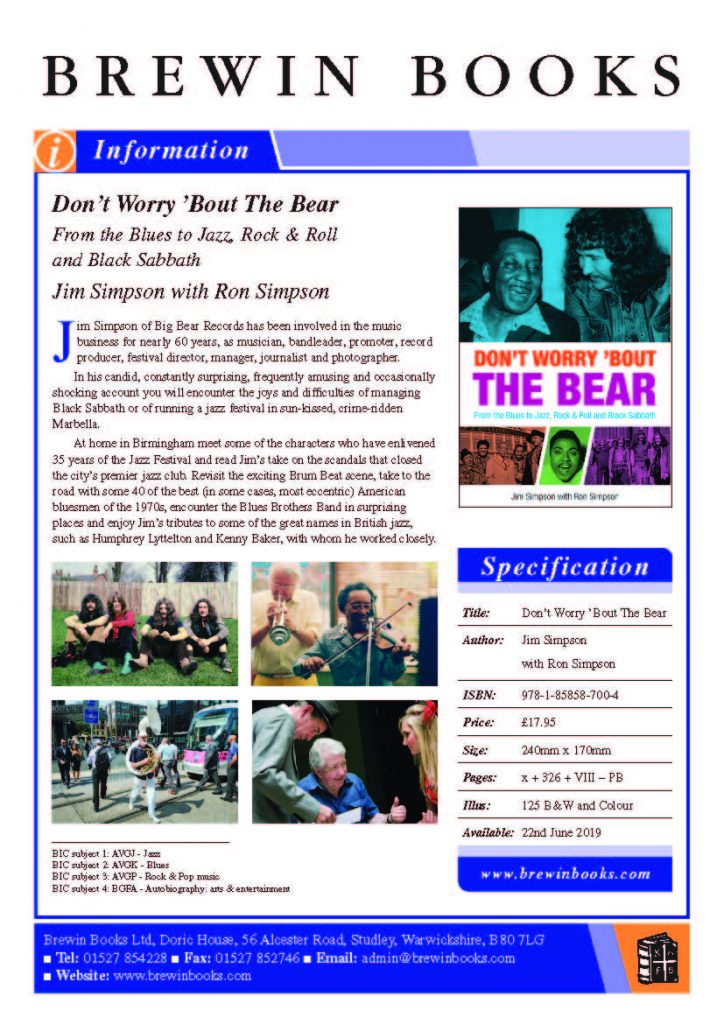 'Don't Worry 'Bout The Bear – From The Blues To Jazz, Rock & Roll and Black Sabbath' is written by Jim Simpson and his brother Ron and is published by Brewin Books on June 22nd 
Jim was the original manager of Black Sabbath – but Sabbath were not typical of the music he promoted and recorded.
In the 1960s Jim played trumpet and managed the UK pop/ska band Locomotive who hit the UK charts in 1968. He later managed the Birmingham rock band Bakerloo, edited the  Birmingham music magazine 'Brum Beat' from 1968 to 1982 and 'The Jazz Rag' magazine and launched Big Bear Music promoting four American Blues Legends tours, between 1973 and 1979, as well as promoting many individual tours by US blues artists.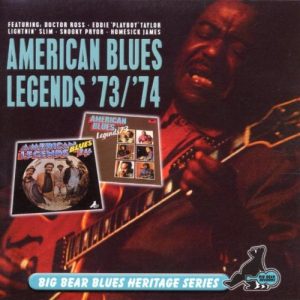 Among those who appeared on the ABL tours and toured individually for Big Bear include Arthur 'Big Boy' Crudup, Champion Jack Dupree, Billy Boy Arnold, Willie Mabon, Eddie Taylor, Eddie C. Campbell, Big John Wrencher, Boogie Woogie Red, Eddie 'Guitar' Burns, Lightnin' Slim Doctor Ross, (14 tours for Big Bear), Billy 'The Kid' Emerson, Cousin Joe Pleasant, Shuggie Otis and many more!
Jim has also been the director of the Birmingham International Jazz Festival for over 30 years, promoting Miles Davis, Illinois Jacquet, B. B. King and Dizzy Gillespie. He was also the programming and publicity manager at Ronnie Scott's Birmingham until its demise.
Jim Simpson has been at the epi-centre of the UK music industry for over half a century promoting and recording  jazz and blues in the UK and Europe – and he is still busy supporting new acts as well as his stalwarts such as the jive and R&B combo King Pleasure and The Biscuit Boys.
Besides jazz, blues and Black Sabbath there are plenty of stories and anecdotes about musicians and artists such Nina Simone, Muddy Waters, The Moody Blues, Stevie Winwood, and broadcaster John Peel.
Watch out for reviews in Blues & Rhythm Magazine and in other UK music publications.