Bear Family Records have announced they will be issuing a five CD boxed set (LP-size) complete ith 104 page hardcover book, 142 tracks and a total playing time approximately 410 minutes.
Born in 1924, Slim Harpo was among the last of the original down-home bluesmen, but also one of the first to register hits in the popular music charts.
Slim lived, worked, and performed most of his life in Louisiana. He died at the age of forty-five, leaving behind one of the most consistently good and coherent bodies of blues recordings. recorded by J. D. Miller, among others, and issued on Nashville's Excello label.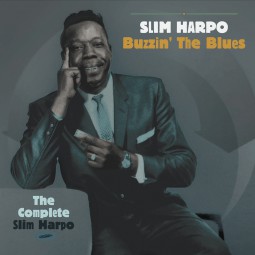 Slim made his recording debut in 1957 with 'I'm A King Bee' later to be covered by the Rolling Stones. In 1961 Slim  made a crossover entry into the US R&Bs and pop charts when 'Rainin' In My Heart' hit the charts, followed by 'Baby, Scratch My Back'.
CDs 1 and 2 will feature all Slim Harpo's Excello label 45s and original album tracks.
CDs 3 and 4 will have all the recordings unissued in Slim Harpo's lifetime and all the alternative takes of issued songs.
CD 5 features a live recording made in 1961, one of the very earliest to capture an original and important blues artist in their prime. Plus there are four previously unissued live songs and one previously unknown song.
Priced at $150, as with all Bear Family box sets this one promises to be a 'must have' for blues fans.