US record dealer and collector John Tefteller has been named as the winner of the ultra rare 'Alcohol And Jake Blues' / 'Ridin' Horse'  cut by Crystal Springs, Mississippi bluesman Tommy Johnson for Paramount Records in 1929. This represents the highest price ever paid for a single 78 rpm blues record and one of the highest prices ever paid for any record.
Bidding, on eBay stood at $16,800 until the final seconds when the price shot up to just over $37,000.
The record, which Tefteller says is in 'beautiful condition'  is one of two copies Tefteller owns Рhis other copy is described 'hammered'.
All other copies of this disc were presumed lost or destroyed. The two songs are remakes of two of Johnson's best known numbers 'Canned Heat Blues' and 'Maggie Campbell'.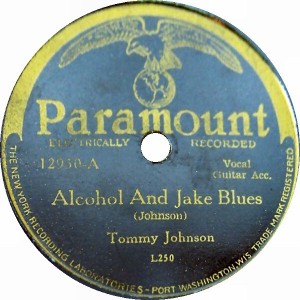 His¬†original copy will be sold to offset the cost of this new one and¬†he said he is 'Äúgoing to remaster and re-release this new copy next year'Ä̬†for his 2015 Blues Calendar release. The Blues Calendars come complete¬†with a 20- to-24 track CD that is included free with each Calendar.
Tefteller travelled in person in South Carolina to pick up the record, he was determined to win. He stayed in a local motel the night the auction was due to end and called the owner of the record to meet with him to see the record. The owner, refused to reveal his whereabouts as he was fearful of scams which had already included correspondence from New York City saying that the disc had been stolen from a collection and the "owner" wanted it back immediately.
The truth is that the unnamed seller from Columbia, South Carolina found the disc in an estate sale, didn't realise what had come into his possession and kept hold of the disc for years.
'ÄúHe absolutely did not realise what he had and how¬†rare it was until he put it on eBay,'ÄĚ said Tefteller. 'ÄúWithin the first few hours of being¬†listed on the auction site another collector tried to stop the sale by¬†offering the seller $4,000.00 for the record. Fortunately, he let the¬†auction proceed and I was able to win it in the final moments.'ÄĚ
Tommy Johnson made a total of five releases for Paramount between 1929 and 1930. Johnson died in Mississippi¬†in 1956.¬†There are a number of Parmount records ¬†yet to be found.¬†'ÄúFind me the missing¬†Willie Brown or J.D. Short on Paramount label and you will see me¬†writing really big cheques.'ÄĚ Tefteller says.