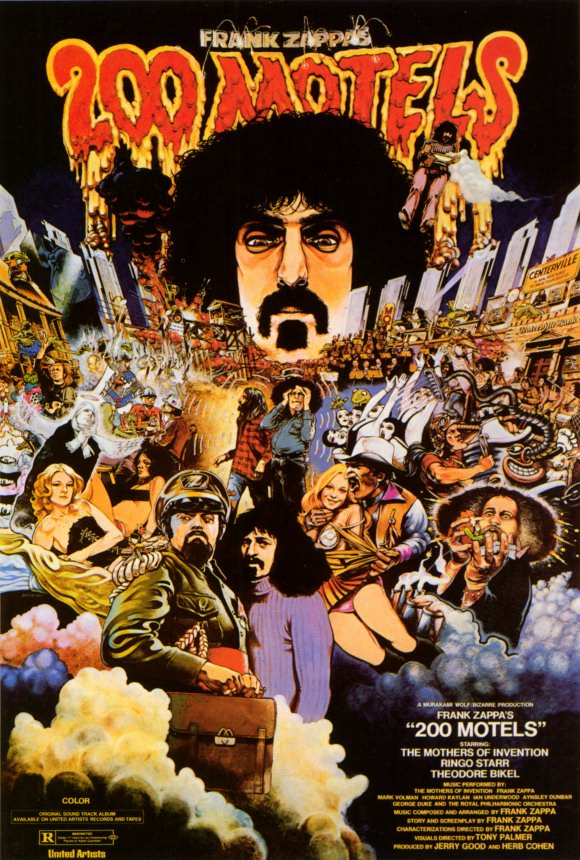 By Fiona Maddocks, The Observer, November 3rd.
Review of Frank Zappa's 200 Motels at the Royal Festival Hall, London, October 29th
"The maverick happening of the week, lacking only spliffs and the requisite bowlfuls of well-chewed yin and yang, was the first UK staging of Frank Zappa's 200 Motels – performed by an army of musicians including the BBC Concert Orchestra, Southbank Sinfonia and London Voices conducted by Jurjen Hempel. Two bonus cast members were the Observer's Jay Rayner, cast against type as Bad Conscience/Ginger, and Zappa's daughter, Diva, as Groupie 2.
A planned performance of this self-styled "surrealist documentary" at the Royal Albert Hall was banned in 1971 on grounds of indecency, and this staging carried an "adults only" health warning. Yet as with so many things that titivate the censors, the questionable elements felt puerile rather than especially penile, and the whole anarchic show, and its music, were far more interesting than the laboured sexy-dildo elements.
Zappa's own film version, also dating from 1971, makes heavy use of his group, the Mothers of Invention. Last week's event, under the umbrella of the Southbank's The Rest Is Noise festival, was chiefly orchestral, displaying Zappa (1940-93) as the serious composer. Despite a terrific electric guitar solo (by Leo Abrahams), which was the best music of the night, the onstage rock band took second place to the massed strings, brass, harp, bells, gongs, marimbas, piano, harpsichord, celeste, accordion, you name it.
As instructed by Zappa, the classical musicians wore standard formal attire but were enclosed in a ring of barbed wire – less exciting than that sounds but providing a certain sharpness to the zany atmosphere. "Overproduced and not what Zappa would have wanted," commented a well-informed man next to me in a Zappa T-shirt who could spot every addition and subtraction to the score but was still – I think – pleased to have heard it.
London Voices produced some plangent and ecstatic vocal colours which were a pleasure to hear. The score veered from jazz to big band to rock to tonal to atonal to Sibelius, Varèse, Stravinsky and Schnittke. It was never less than intriguing. The mix of Claron McFadden's thrilling coloratura soprano, a hippy-cowboy duo of Ian Shaw and Brendan Reilly, and Tony Guilfoyle droll as Zappa guaranteed good entertainment. Even if it wasn't what everyone wanted of their hero beyond the grave, the crowd cheered their thanks that at last, 42 years late, this work had come to life. It was enough to make you weep into your tie-dye.