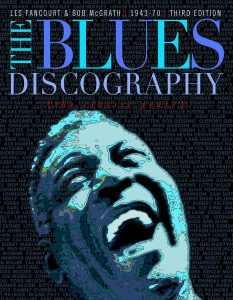 The third edition of Bob McGrath and Les Fancourt's mighty 'The Blues Discography 1943-1970', published by Eyeball Productions, is now available from their website.

The history of 'The Blues Discography' can be traced back to the mid 1960s when Mike Leadbitter (of Blues Unlimited) and Neil Slaven (of R&B Monthly) came together to work on 'Blues Records 1943-1966', a 'selective discography' of 380 pages eventually published in 1968.
Subsequently, an expanded 'Blues Records 1943-1970 (A-K)' by Leadbitter and Slaven was published by Record Information Services in 1987 and a second volume (L-Z) was published in 1994 by RIS, credited to Leadbitter, Les Fancourt and RIS. In 2006 Eyeball Productions published the award winning 'The Blues Discography' and a second, limited edition appeared in 2012.
This new third edition is revised, much expanded and has significantly more new information. Co-author Les Fancourt has done sterling work in collecting and collating new information/recording data from blues and R&B record company files and vaults, reissue companies, blues and R&B record collectors, discographers and researchers worldwide, from specialist blues and music magazines, other publications and websites.
 The third edition which features over 1300 artists will be published with a slightly changed format in order to reduce postal costs. It will be over 775 pages – (it would have been over 850 pages if the previous format had been used and much more expensive to mail according to Eyeball's Bob McGrath).
The third edition has a new cover design, historical introduction by Blues & Rhythm's Tony Burke, plus full acknowledgements of those who have contributed information over the years.
Date of release is 1st February, at a cost oto be announced and it will be available exclusively from www.eyeballproductions.com 
Price is $99 plust p&p.