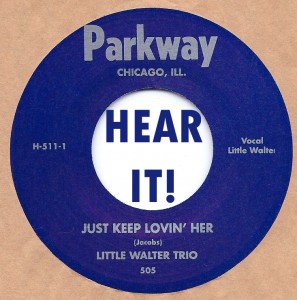 Being offered for sale on eBay, previously unissued acetate recordings on 45rpm for the first time of Little Walter's 'Just Keep Lovin Her' backed by Baby Face Leroy's 'Boll Weevil'.
According to the info the release is legally issued on license from Delmark Records in Chicago.
Click on eBay link and here the tracks. These are great early post war Chicago blues recordings and yes they have been around on CD but this dinky little 45 is a must!
Or you can buy this 45rpm disc plus a rare Muddy Waters 45 on Parkway here!