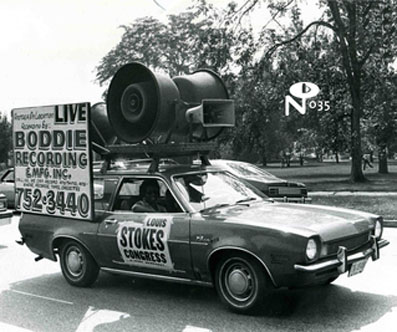 Boddies may be best known in the UK as Manchester's finest bitter beer and for its creamy head and rings, but between 1958 to 1993, Thomas and Louise Boddie's ran an independent record company called Boddie Recording Company. They released almost 300 albums and 45s, recorded 10,000 hours of tape, and remained in operation longer than any other studio, pressing plant, or label group in the history of Cleveland.
The recordings were made in a tiny DIY recording studio housed in a barn, and they recorded black music emanating from Cleveland's east side.
A new box set has been issued by Numero Uno consisting of 58 tracks over three  CDs (or a 65 track 5 vinyl LP set ) taken from the Boddies' Soul Kitchen, Luau, and Bounty labels and featuring an array of music – soul, R&B, funk, doo-wop and gospel from such long-forgotten artists as Eddie And The Ant Hill Mob; Harvey and The Phenonemenals, The Golden Harmonizers, Rev. R. L. Hubbard and A.C. Jones And The Soulettes – Atomic Aces.
The box includes two booklets brimming with detail and memorabilia on the Boddies and their artists; extensive notes and unpublished photos; a complete detailed discography; reproduced fliers; and a Boddie greeting card—all rendered with the handcrafted charm that was the Boddie hallmark.
The set is a limited edition production of 500 Â copies.
Here is a review by Stevie Chick of the box set published in The Guardian. This is well worth seeking out as an all round collectors item.
Here is a track from the box set by A. C. Jones and The Atomic Aces – 'Give Me Your Love'