A box set containing both volumes of the the Billy Bragg & Wilco Mermaid Avenue albums, plus a CDs worth of unissued material is due on April 21st – Record Store Day.
Back in 1998 the Bard Of Barking and alt.country rockers Wilco cut two CDs worth of songs based on unpublished lyrics by Woody Guthrie, discovered by Woody's daughter Nora.
They cut two great albums which created significant interest in a new generation into the life and music of Woody Guthrie. Billy recently leaked the news of the release of 'Mermaid Avenue: The Complete Sessions', a box set which will include both previously released albums as well as a third volume, featuring 17 previously unreleased tracks plus the film documentary 'Man In The Sand'. Word is that the third volume will be available on its own as a digital download.
Whilst the Mermaid project was a critical success, there were some disagreements during the recording sessions between our Bill and Wilco's Jeff Tweedy, which come to the surface in the documentary.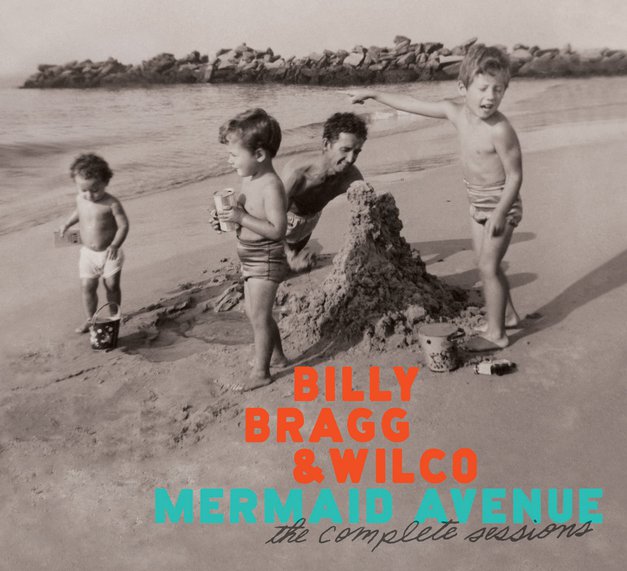 You can  preorder  the set from Nonesuch Records and in doing so you get a print of Guthrie's original lyrics for 'Hoodoo Voodoo'. Songwriting and lead vocals are said to be evenly split between Billy and Jeff with a couple by blues artist Corey Harris.
The third volume will contain the following tracks: Bugeye Jim; When The Roses Bloom Again; Gotta Work; My Thirty Thousand; Ought To Be Satisfied Now; Listening To The Wind That Blows; Go Down To The Water; Chain Of Broken Hearts; Jail Cell Blues; Don't You Marry; Give Me A Nail; The Jolly Banker; Union Prayer; Be Kind To The Boy On The Road; Ain'ta Gonna Grieve; Tea Bag Blues; I'm Out To Get.
Billy Bragg on the discovery of Woody Guthrie's lyrics – click here.