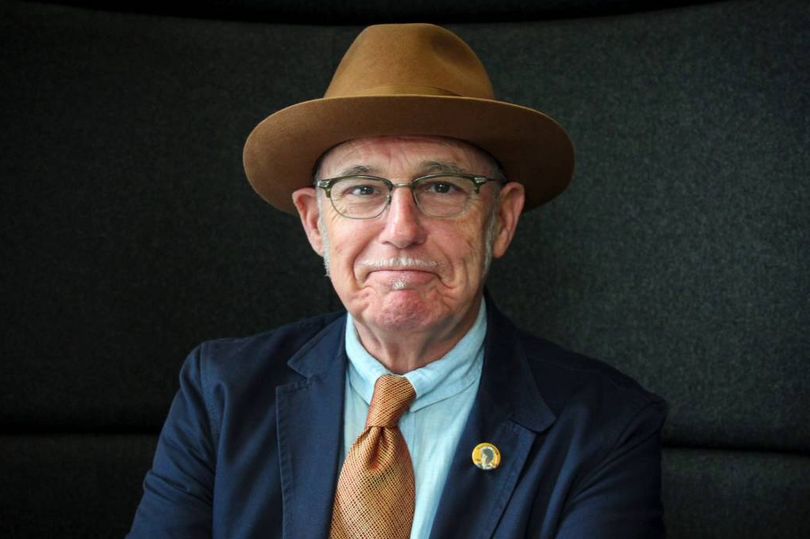 Chris 'C. P.' Lee, leader of Greasy Bear, the legendary Manchester underground died suddenly on July 25th.
Chris Lee, was born in Didsbury, Manchester in 1950 and as well as being a musician, he was a writer, broadcaster, performer and university lecturer.
A student at The Manchester School of Art, in 1969 he formed Greasy Bear along with his friend Bruce Mitchell – of The Durutti Column fame – as well as Ian Wilson, Steve Whalley and John Gibson.
Greasy Bear were christened 'Manchester's answer to The Grateful Dead' and they were managed by Manchester music promoter and DJ Roger Eagle.
Greasy Bear played countless gigs in the North West and Manchester area.
They seemed to play every local festival, all dayers, as well as pub and college gigs and of course at Manchester's Magic Village. Their gigs were promoted in the Manchester underground newspaper Grass Eye.
In 1970, with a collection of songs penned by Chris Lee and Ian Wilson, Greasy Bear recorded nine tracks, hoping to secure a deal with the Philips underground and progressive label Vertigo. They worked with producer Terry Brown, who had recently produced the work of Martin Carthy and Dave Swarbrick.
After the deal with Philips/Vertigo fell through the band went their separate ways.
In 2016 the album, 'Is Adrian There?', finally saw the light of day after being released by Vinyl Revival on Record Store Day.
C.P. Lee and Bruce Mitchell formed Manchester anarchic-satirical rock band Alberto Y Los Trios Paranoias. Bruce went on to form half of Factory records duo The Durutti Column.
Alberto y Lost Trios Paranoias released three albums in the 1970s and were scheduled to appear on Top Of The Pops to promote a new single but a power cut meant they couldn't appear.
Their remarkable story is told in C.P.'s own memoir, 'When We Were Thin'.
This was one of many books that Chris would write over the years including 'Shake, Rattle & Rain', is an adaption of his PhD thesis on popular music making in Manchester.
A fanatic of all things Bob Dylan, Chris attended Dylan's Manchester Free Trade Hall 'Judas' concert in 1966, of which he later wrote about in his book 'Like The Night (Revisited)'.
He hosted hosted a number of film, music and performance events at the Kings Arms in Salford over the years.
In more recent years he toured as C.P. 'Ukule' Lee in a bid to keep the Albertos legend alive by going on the road and performing his band's hits.
For more information on Greasy Bear and to see some great memorabilia visit their section on the Manchesterbeat website
You Tube clips of Greasy Bear:
Geordie from 1970 recorded for Phillips/Virtigo but not released.
Windy Day from a compilation of unissued and rare tracks from Manchester bands called Man Chester Hair
From the Manchester Digital Music Archive Interviews:
C.P. Lee on Greasy Bear at Main Debating Hall, 1971
C.P. Lee on Captain Beefheart at Main Debating Hall, 1968
C.P. Lee on Bonzo Dog Doo-Dah Band, Main Debating Hall, 1968