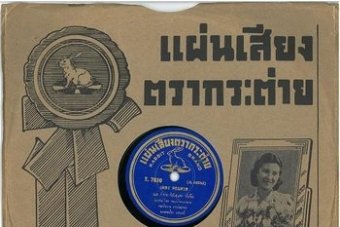 A collection of 18 rare Thai 78 rpm records is back in Bangkok, after spending more than 60 years in storage in Sydney, Australia.
The records feature, among others, the musical talents of Thailand's King Bhumibol Adulyadej, on saxophone.
 The 78s were acquired by an Australian engineer, Gus Waterhouse, during the 1940s and early 1950s, and he eventually brought the discs back to Australia. Gus's nephew Michael Waterhouse said that his uncle emigrated to the United States in 1955 and left the records behind.
"They sat in storage in Sydney for another 31 years until he died. He came back to Australia two or three times I guess in those 30-odd years, but he never sought to get access again to all the material that he left in store," he said.
"He and his wife both died, neither of them had any children and so he died in 1986, and when that happened, my father, his younger brother, retrieved everything from storage," he said.
"We didn't realise what was there, but it turned out to be 40 boxes, crates, suitcases, you name it full of material that had been just left there in 1955. And so we unpacked all this material and distributed it amongst the family, depending on who wanted certain things. I kept the records, not for any particular reason, other than I rather liked the old 78 wind up gramophone that was there. But they really just sat in storage in our house for quite a few years after that. We moved house once, so all in all, it's really been from 1955 until late 2011, they've basically been in three lots of storage and been I guess out of the way and therefore preserved."
While Michael Waterhouse knew his uncle had lived in Thailand and had an interest in Thai culture, he had no idea that the records were actually rare recordings dating back to 1923. When his wife told him it was time to throw the records out he got in touch with the National Archive Museum in Bangkok.
"Then a few weeks ago, somebody in the National Film and Archives got in touch with me and said: 'Oh, this delegation is coming specifically to collect these records' and I thought: 'Ooh, that's surprising', and they asked me to come along and do a handover. And it was only a few days before that that I heard about the King's involvement and it was actually only at the handover itself that they told us about the record from 1923 being the oldest known record of the Siamese National Anthem," he said.