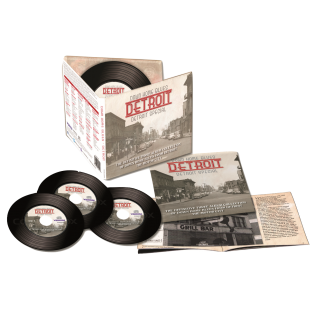 Due for release in July this year 'Down Home Blues Detroit' (Wienerworld WNRCD5095) is arguably the definitive collection of blues music from Detroit-based musicians from the late 1940s to the early 1960s. Detroit although a smaller city, was akin to Chicago in the history of the blues.
Like Chicago southern blacks migrated to find work and found themselves in new urban surroundings. Amongst the many migrants were blues musicians who took with them their delta blues sounds – which developed into a more aggressive feel influenced by their new urban surroundings.
The set will feature  21 artists who were influential in developing the Detroit blues scene, including John Lee Hooker, Bobo Jenkins, Sam Kelly, Eddie Kirkland, Little Sonny, Detroit Count, Eddie Burns, Baby Boy Warren and many more – see track list below.
The set will be packaged in a 'deluxe digipak' with an outer slip case and features 82 rare tracks, all digitally remastered, with unissued recordings and others which have not been available for decades
The set includes a 48 page book featuring an essay on the origins of Detroit music by renowned blues researcher and historian Mike Rowe, complete with rare photos, track listing and full sessionography
Among the artists featured are blues artists who encompassed small combo group recordings and solo artists. Some artists made many commercial recordings and others who cut just one session. And there also unissued recordings – from unearthed rare acetate discs. See track list below.
TRACKLISTING
CD One
1. Miss Lorraine
John Lee Hooker
2. Talkin' Boogie
John Lee Hooker
3. Come Back Sugar Mama
L C Green
4. Little Machine
L C Green
5. Papa's Boogie
Eddie Burns
6. My Special Friend Blues
Baby Boy Warren
7. Nervy Woman Blues
Baby Boy Warren
8. Making A Fool Out Of Me
Eddie Burns
9. Squeeze Me Baby
Eddie Burns
10. Democrat Blues (Democrat Man)
Bobo Jenkins
11. Bad Luck And Trouble
Bobo Jenkins
12. Lillie Mae (Version 1)
Calvin Frazier
13. Rockhouse
Calvin Frazier
14. Bus Driver
John Brim
15. When The Sun Is Shining
L C Green
16. Hold Me In Your Arms
L C Green
17. Rockin' Chair Boogie
Clarence Posey
18. Nelly Mae
Detroit Slim
19. Lonesome Cabin Blues
Baby Boy Warren
20. Don't Want No Skinny Woman
Baby Boy Warren
21. Gangster Blues
Eddie Burns
22. Grievin' Blues
Eddie Burns
23. Ramblin' Around Blues
Sam Kelly
24. Now I'll Have To Sing The Blues
Martee Bradley
25. Winter Time Is Comin'
Martee Bradley
26. Taxi Driver Blues
Baby Boy Warren
27. Bad Lover Blues
Baby Boy Warren
CD Two
1. Graveyard Blues
John Lee Hooker
2. I Love To Boogie
John Lee Hooker
3. Little School Girl
L C Green
4. Remember Way Back
L C Green
5. Superstition
Eddie Burns
6. Biscuit Baking Woman
Eddie Burns
7. Forgive Me Darling
Baby Boy Warren
8. Please Don't Think I'm Nosey
Baby Boy Warren
9. She Fool Me
Harvey Hill Jr
10. Boogie Woogie Woman
Harvey Hill Jr
11. Lilly Mae (Version 2)
Calvin Frazier
12. Dog Me Blues
Henry Smith
13. Baby Don't You Want To Go
Bobo Jenkins
14. Ten Below Zero
Bobo Jenkins
15. I Got Lucky
Baby Boy Warren
16. Let's Renew Our Love
Baby Boy Warren
17. Papa Doo
James Walton
18. Loving You Baby
Earl Chatman
19. Parrot Lounge
Detroit Count
20. Detroit Boogie
Detroit Count
21. Seasick And Waterbound
Bobo Jenkins
22. Pitch A Boogie Woogie
Big Jack Reynolds
23. Lilly Mae (Version 3)
Calvin Frazier
24. Mattie Mae
Baby Boy Warren
25. Santa Fe
Baby Boy Warren
26. Hastings Street After Hours
Little Sonny
27. Love You Pretty Baby
Little Sonny
28. Have Mercy On Me
John Lee Hooker
CD Three
1. Somebody Put Bad Luck On Me
Baby Boy Warren
2. Stop Breaking Down
Baby Boy Warren
3. Love Shock
Little Sonny
4. I'll Love You Baby Until The Day I Die
Little Sonny
5. I'll Move You Baby
Eddie Kirkland
6. Mercy Mercy
Eddie Kirkland
7. Miss Sadie Mae
John Lee Hooker
8. 609 Boogie
John Lee Hooker
9. Cat Squirrel
Doctor Ross
10. The Sunnyland
Doctor Ross
11. Nothing But Love
Bobo Jenkins
12. Tell Me Who
Bobo Jenkins
13. Orange Driver
Eddie Burns
14. Hard Hearted Woman
Eddie Burns
15. I Gotta Find My Baby
Little Sonny
16. Hear My Woman Calling
Little Sonny
17. Chuck-A-Luck (or Chicken)
Baby Boy Warren
18. Baby Boy Blues
Baby Boy Warren
19. Done Somebody Wrong
Eddie Kirkland
20. I Need You Baby
Eddie Kirkland
21. She's My Baby
Bob Kelly
22. The Thing To Do
Eddie Burns
23. I Hear My Woman Callin' – Alternate
Little Sonny
24. Industrial Boogie
Doctor Ross
25. Thirty Two Twenty
Doctor Ross
26. Baby Don't You Want Me To Go – Alternate
Bobo Jenkins
27. Ten Below Zero – Alternate
Bobo Jenkins