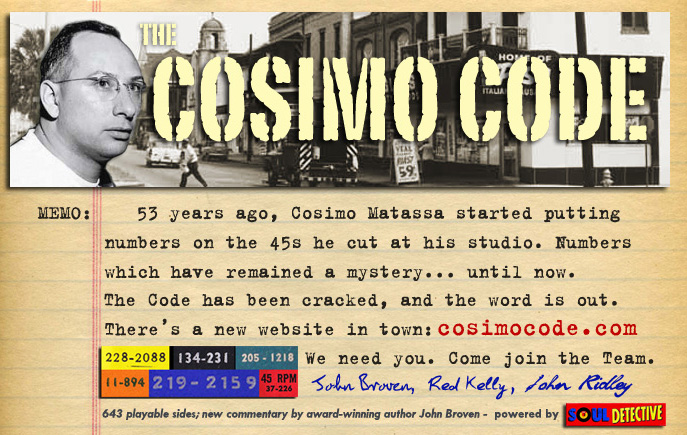 Red Kelly ('The Soul Detective'), John Ridley ('Sir Shambling'), and author John Broken have launched a new website called 'The Cosmo Code'. 
Discographers David Gordon and Ace Records' Peter Gibbon also assisted in the project.
In October 1960, Cosimo Matissa introduced a new sequential master tape series starting at 100 with clients allocated individual prefixes. This series ran until the demise of the Cosimo Recording Studios in 1968, and was continued – after a fashion – with the new Jazz City Recording Studios until 1977.
By annotating the series for the first time, we are now able to get a better picture of the recording sessions carried out at the Cosmo studios by artists, labels and producers as New Orleans R&B morphed into Soul. Blues, Gospel, Doo-Wop, Pop and Garage Rock were also recorded and the he Cosimo Code is gradually being unraveled.
In quoting dates for the Billboard and Cash Box trade magazine reviews, the web site assembles reliable dating-guide markers, which are particularly valuable with the smaller independent labels.
There are still many gaps in the listing, caused principally by certain labels such as Imperial and Minit having their own master sequences.
What the Cosimo Code does not show is all the unissued recordings/alternate takes, although Broven, Ridley and Kelly hope to assemble some of this information in the course of time.
Other pages on the site include a note of hit records and interview transcripts with Cosimo Mattassa and assistant Bert Frilot.
The publication of 'The Cosimo Code' inevitably raises many questions, which we hope will be answered in the future. For example, which Meters recordings were cut at Cosimo, Jazz City and elsewhere in the late 1960s? Indeed, what is the under-researched story behind Jazz City studios? Which labels from the Gulf Coast patronised Cosimo's studios? Crucially, what is the whole story behind the collapse of Matassa's Dover organisation, and what ever became of all the 1960s master tapes when it fell?
You can join the team by examining 45s in collections, discographies, the internet (YouTube and eBay in particular), and participating in the website forum to fill in the gaps in what will hopefully be a prolonged work in progress.
You can access the website by clicking on the graphic or the link in the first paragraph.