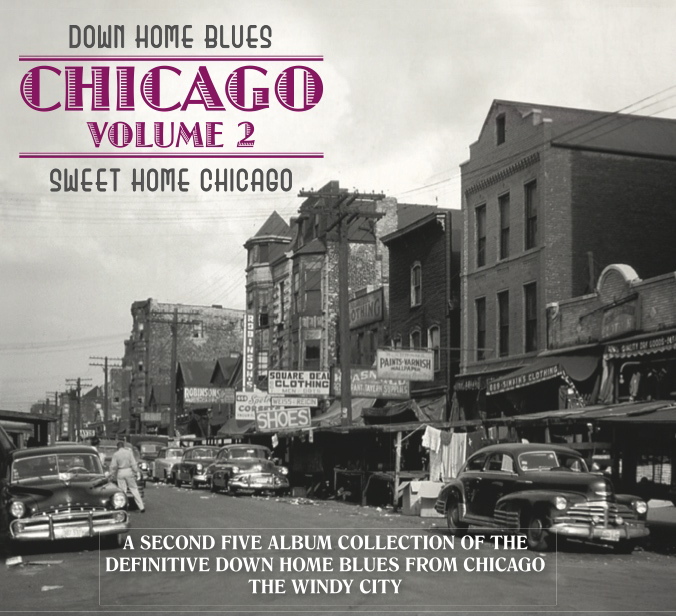 'Down Home Blues: Sweet Home Chicago' is the second volume of Chicago Blues post war down home blues music from Wienerworld, recorded from the mid-1940s through the golden decade years of the 1950s up to the early 1960s Sweet Home Chicago features 46 artists who were influential in developing the Chicago blues scene including Elmore James, Howling Wolf and Jimmy Rogers. Includes early down home blues recordings from Chuck Berry and Bo Diddley just before they were on the cusp of taking their music into the new big world of rock and roll
A five CD set, packaged in a deluxe digipak with an outer slip case, featuring 135 tracks all remastered and including alternate takes of well-known recordings. All unissued and alternate take records are from Peter Moody's private collection, many of which are otherwise unavailable
Includes an outstanding 94 page book, featuring a new essay by renowned blues historian  Mike Rowe on the post war Chicago scene; over fifty rare period photographs illustrate the essay throughout; full track details, as well as full sessionography. A feature page section on some of the artists and a five page gallery of original 78 and 45 record labels
Features eight unique unpublished photos:Â Chuck Berry (inside cover), Johnnie Johnson (p.1), Memphis Minnie (p.2), Robert Lockwood with Sonny Boy Williamson (p.25), Honey Boy Edwards (p.31), Elmore James, Little Walter & Muddy Waters (p.34), Bo Diddley (p.42), Billy Boy Arnold (p.44)
Peter Moody, the compiler, was frustrated that as he worked on the Chicago 5 CD Fine Boogie set that was released in 2017, he was finding that he had many more prime recordings and ideas to bring to the ears of the blues music audience so he started work on this follow up collection.
Continuing the mix of well-known artists to the lesser-known, all the recordings are prime Chicago masterworks. With big hitters like Muddy Waters, Little Walter and Sonny Boy Williamson, all their tracks are alternate takes or originally unissued masters by the record companies, most of which are currently not available on release.
Mixing with these three there are many more stars of this down home genre including Albert King, Jimmy Reed and Memphis Minnie, again with alternate recordings of their best well-known music. In this golden age of blues, there were so many superb recordings being made it was impossible to issue many of them into the singles record buying market place. Eventually when the new long playing albums began to surface they began to cater for this wealth of music when recording in later years.
CD 1
1 WHO BUT YOU *
James Clark
2 DRIFTING
Memphis Jimmy (James Clark)
3 DELTA PINE BLUES *
Johnny Shines
4 RIDE, RIDE MAMA *
Johnny Shines
5 EVIL-HEARTED WOMAN BLUES *
Johnny Shines
6 I'M GONNA CUT YOUR HEAD*
Homer Harris
7 TOMORROW WILL BE TOO LATE *
Homer Harris
8 DUE RESPECTS TO YOU
Willie 'Long Time' Smith
9 NO SPECIAL RIDER HERE
Willie 'Long Time' Smith
10 LITTLE BOY BLUE
"Blues Boy" Bill
11 BURYING GROUND BLUES * -ALT
Muddy Waters
12 COME TO ME BABY
James (Beal Street) Clark
13 YOU CAN'T MAKE THE GRADE
James (Beal Street) Clark
14 XMAS BLUES * -TEST
Herman Ray
15 SPECIAL DELIVERY MAN *
Forest City Joe
16 SHADY LANE WOMAN *
Forest City Joe
17 ATOMIC BOMB BLUES *
Homer Harris
18 TOMORROW WILL BE TOO LATE * – ALT
Homer Harris
19 DEVILMENT ON MY MIND *
Willie 'Long Time' Smith
20 HOMELESS BLUES *
Willie 'Long Time' Smith
21 MEAN MISTREATIN' WOMAN*
Forest City Joe
22 LONESOME DAY BLUES *
Forest City Joe
23 MOTHER FUYER
Dirty Red
24 YOU DONE ME WRONG
Dirty Red
25 MR CHARLEY *
Pete Franklin
26 WATER COAST BLUES
Big Bill Broonzy
CD 2
1 HARD DAYS *
Muddy Waters
2 BURYING GROUND *
Muddy Waters
3 SCHOOL DAYS
Floyd Jones
4 COME ON, IF YOU'RE COMING
Tampa Red
5 I'LL FIND MY WAY
Tampa Red
6 BETWEEN MIDNIGHT AND DAY
Johnny Temple
7 SIT RIGHT ON IT
Johnny Temple
8 HARD WORKING MAN *
Jimmy Rogers
9 MY LITTLE MACHINE *
Jimmy Rogers
10 CRYING SHAME *
Jimmy Rogers
11 GLORY FOR MAN *
Robert Lockwood Jr.
12 MY DAILY WISH *
Robert Lockwood Jr.
13 HOW MANY MORE YEARS -ALT
Howling Wolf
14 JUST MY KIND *
Howling Wolf
15 BROKEN HEART -ALT
Memphis Minnie
16 LAKE MICHIGAN *
Memphis Minnie
17 ME AND MY CHAUFFEUR -ALT
Memphis Minnie
18 LONESOME DAY *
Muddy Waters
19 STUFF YOU GOTTA WATCH *
Muddy Waters
20 CRYING – ALT
Blue Smitty
21 ELGIN MOVEMENT *
Blue Smitty
22 IN LOVE AGAIN *
Memphis Minnie
23 WHAT A NIGHT *
Memphis Minnie
24 FUNERAL HEARSE AT MY DOOR *
Rocky Fuller
25 DRIFTIN' -ALT
Little Walter
26 OFF THE WALL -ALT
Little Walter
CD 3
1 SWEET HOME CHICAGO *-TAKE 2
Honey Boy Edwards
2 DROP DOWN MAMA *
Honey Boy Edwards
3 I DECLARE THAT AIN'T RIGHT * – TAKE 4
Henry Gray
4 MY BABY LEFT ME *
Big Boy Spires
5 THAT'S IT *
Little Walter
6 THAT'S IT * – EDITED VERSION
Little Walter
7 BLUES WITH A FEELING -ALT
Little Walter
8 I SEE MY BABY *
Elmore James
9 COUNTRY BOOGIE
Elmore James
10 I HAD A DREAM -ALT
Lazy Bill
11 SHE GOT ME WALKIN' -ALT
Lazy Bill
12 LITTLE BOY BLUE * -ALT
Albert King
13 HAND ME DOWN * (SWEET WOMAN)
Albert King
14 MURDER *
Albert King
15 UNTITLED INSTRUMENTAL *
Morris Pejoe
16 HURT MY FEELINGS
Morris Pejoe
17 LONESOME BLUES *
Homesick James
18 12th ST STATION *
Homesick James
19 LONG LONESOME DAYS *
Homesick James
20 EIGHT BALL*
Gus Jenkins
21 (I'M YOUR) HOOCHIE COOCHIE MAN-ALT
Muddy Waters
22 IT MUST HAVE BEEN THE DEVIL
Otis Spann
23 FIVE SPOT
Otis Spann
24 I LOVE YOU SO (OH BABY) *
Little Walter
25 LAST NIGHT * – FIRST VERSION
Little Walter
26 GOODBYE BABY *
Henry Gray
27. YOU MESSED UP *
Henry Gray
CD 4
1 WEE WEE HOURS
Chuck Berry
2 NO MONEY DOWN
Chuck Berry
3 I'VE CHANGED *
Chuck Berry
4 I WAS FOOLED
Billy Boy Arnold
5 DON'T STAY OUT ALL NIGHT
Billy Boy Arnold
6 LITTLE GIRL -ALT
Bo Diddley
7 I'M A MAN -ALT
Bo Diddley
8 YOU DON'T LOVE ME (YOU DON'T CARE)
Bo Diddley
9 WATCH YOURSELF *
Henry Gray
10 THAT AIN'T RIGHT *
Henry Gray
11 THIS PAIN *
Muddy Waters
12 I WANT TO BE LOVED -ALT
Muddy Waters
13 LITTLE GIRL *
Little Walter
14 TEMPERATURE – FIRST VERSION
Little Walter
15 HURRY HOME *
Dusty Brown
16 GOOD EVENING EVERYBODY*
Sonny Boy Williamson
17 HAVE YOU EVER BEEN IN LOVE *
Sonny Boy Williamson
18 SMOKESTACK LIGHTNING
Herby Joe
19 DREAMED (LAST NIGHT)
Herby Joe
20 I NEED YOU PRETTY BABY FOR MY OWN
Harmonica 'Blues King' Harris
21 BLUES KING MANGO
Harmonica 'Blues King' Harris
22 GOIN' BACK
Po Joe Williams
23 MY BABY LEFT
Po Joe Williams
24 YOU GOT ME WRONG
Billy Boy Arnold
25 MY HEART IS CRYING
Billy Boy Arnold
26 I DON'T KNOW -ALT
Sonny Boy Williamson
27 LIKE WOLF *
Sonny Boy Williamson
28 THIS IS MY APARTMENT *
Sonny Boy Williamson
CD5
1 I'M GONNA RUIN YOU *-FIRST VERSION
Jimmy Reed
2 HONEY, WHERE YOU GOING?
Jimmy Reed
3 LITTLE RAIN
Jimmy Reed
4 HURTS ME SO MUCH * -TAKE 2
Sonny Boy Williamson
5 FATTENING FROGS FOR SNAKES – ALT
Sonny Boy Williamson
6 KNOCKING AT YOUR DOOR
Elmore James
7 LOOK OUT MABLE
G. "Davy" Crockett
8 HONEY, WHERE YOU GOING? -ALT
Jimmy Reed
9 LITTLE RAIN -ALT
Jimmy Reed
10 SIGNALS OF LOVE -ALT
Jimmy Reed
11 WELL YOU KNOW (I LOVE YOU)
Dusty Brown
12 I LOVE THIS CARRYING ON
Freddie Hall
13 SHE'S A UPSETTER
Freddie Hall
14 MY WALKING BLUES
Little Mack Simmons
15 COME BACK
Little Mack Simmons
16 NOTHING BUT TROUBLE
Eddie Boyd
17 HER PICTURE IN THE FRAME
Eddie Boyd
18 FIVE LONG YEARS
Eddie Boyd
19 I CAN'T HOLD OUT
Elmore James
20 THE SUN IS SHINING
Elmore James
21 MR AIRPLANE MAN
Howling Wolf
22 LITTLE BABY
Howling Wolf
23 BABY'S COMING HOME
Hound Dog Taylor
24 FIVE, TAKE FIVE
Hound Dog Taylor
25 CAN'T AFFORD TO DO IT
Homesick James
26 SET A DATE
Homesick James
27 RUNNING AROUND
Slim Willis
28 NO FEELING FOR YOU
Slim Willis
KEY
* Track originally not issued
-ALT = Alternate Take (originally not issued)