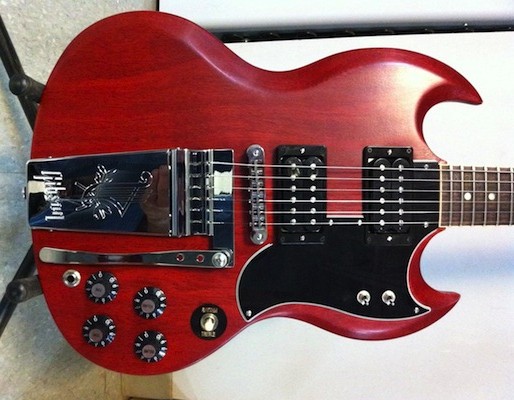 Frank Zappa fans and guitar freaks will soon be able to get their hands on a long awaited tribute guitar.
Dweezil Zappa has been working closely with Gibson to produce a prototype model, which replicates one of his dad's (Frank's) most iconic instruments the 'Roxy SG'.
Dweezil has registered the instrument in theguitarvaults, a website he launched last month which allows guitarists to put details of their instruments online to help track them down in the event of loss or theft.
The link to the guitar's profile page can be found by clicking here.
Speaking of the guitar's development he said:¬†'It is an exact replica of Frank's 'Roxy era' guitar, which started its life as an SG Special with P90s and no trem. Frank tweaked it a lot in the early 1970s and it morphed into this configuration by 1974′.
'It later ended up with a mirror pick guard over the whole body and some advanced electronics. I decided to have it reproduced to match Roxy/Apostrophe era since this is how the guitar looked and functioned at that time.'
Fans will get their chance to see the guitar when Dweezil takes it out for a 'test drive' on his current European and US tours.