Sad to report that George Duke, the Grammy winning jazz rock and fusion keyboard player has died. He was aged 67. George died August 6th in Los Angeles. He was being treated for chronic lymphocytic leukemia.
Duke's son, Rashid, thanked his father's fans in a statement saying: "The outpouring of love and support that we have received from my father's friends, fans and the entire music community has been overwhelming," he said. "Thank you all for your concern, prayers and support."
George Duke was born in San Rafael, California and began taking piano lessons when he was four years old, after seeing Duke Ellington perform. "I don't remember it too well  – but my mother told me I went crazy. I ran around saying, 'Get me a piano, get me a piano!'"
Duke said he learned a lot about music from going to church, which added a funk style to his sound. He played in high school jazz groups and was heavily influenced by Miles Davis. He earned degrees from the San Francisco Conservatory of Music and San Francisco State University.
In mid September 1969 he cut 'The Jean-Luc Ponty Experience with The George Duke Trio'Â with jazz violinst Jean-Luc Ponty. Ponty, recorded a number of Frank Zappa's compositions on his World Pacific album 'King Kong: Jean-Luc Ponty Plays The Music Of Frank Zappa'Â released in 1970 on which Zappa played guitar and Duke appeared on keyboards.
Duke joined Zappa in The Mothers of Invention in 1970 and appeared on Zappa's, Chunga's Revenge as well as appearing on Zappa's 'Over-Nite Sensation, Apostrophe albums and touring with Zappa – with 'Inca Roads' (see You Tube clip) being a Duke showcase in what Zappa fans revere as the technically brilliant '74 Band'.
He can be heard with Zappa on many unofficial tapes, albums and CDs from the period as well as recordings made by Zappa and issued on his 'You Can't Do That On Stage Anymore' series of CDs.
In 1971 he joined Cannonball Adderley's band and there met bassist Stanley Clarke. They formed the Clarke/Duke Project. Their song "Sweet Baby" was a Top 20 hit on the Billboard pop charts.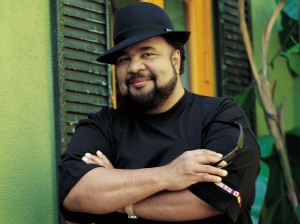 Duke became a solo artist in 1976 and released more than 30 albums. In 2008 he joked that:Â "I'm kinda like John McCain in that way: He doesn't know how many houses he's got; I don't know how many albums I've got!"
He also produced albums for Miles Davis, Smokey Robinson, Gladys Knight, Dionne Warwick and Natalie Cole, played keyboards on Michael Jackson's multi-platinum 1979 album, "Off The Wall" and worked as musical director for the Soul Train Music Awards and other special music industry events.  He also scored songs on soundtracks for "The Five Heartbeats" and "Karate Kid III."
His wife, Corine, died from cancer last year. He was unable to make music for months, but he overcame his grief to create the album "DreamWeaver," released in July this year. It features a fusion of sounds and a touching tribute to his late wife on the piano-driven ballad "Missing You."