The  publication of Barney Hoskyns new book on Led Zeppelin 'Trampled Under Foot: The Power And Excess Of Led Zeppelin' is being trailed as "a unique look at the history, adventures, myths and realities of this most legendary and powerful of bands, it is a labour of love based on hours of first-hand and original interviews".
The book charts the history of the group back to the 1950s and early 1960s, through the British blues boom, the glory years of mega stardom in the 1970s and early 1980s, as well as the Zep entourage which included manager Peter Grant, tour manager and general factotum Richard Cole and Atlantic Records boss Ahmet Ertegun, all described as "giant figures from the long-vanished world of 1970s rock".
The book will feature many rare and never before seen photographs, it is also the first book on Led Zeppelin to cover events as their triumphant 2007 O2 Arena gig and Robert Plant's Grammy-winning resurgence of recent years.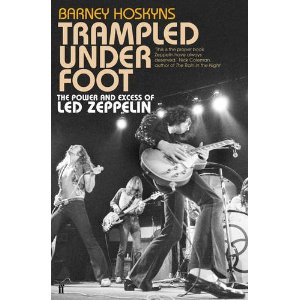 Hoskyns gave an interview to promote the book – an extract was published in the Metro in the UK :
What do you think of the often rather salacious existing books about Led Zeppelin?There's good stuff in all of them. But most recycle tales of groupies and mudsharks and chucking TV sets out of windows. For me, this is terribly boring. I wanted to demystify the band but, at the same time, I uncovered stuff that's even more shocking. Zeppelin were the biggest band on Earth in the 1970s and were a law unto themselves. They drove through red lights in limousines, there were many brutish incidents of physical violence. Any mess was cleaned up very efficiently.
You wrote for a very ideologically charged NME in the early 1980s. Did you hide your love of them?
Yes. Zeppelin were hugely uncool throughout the 1980s and not just among the NME's post-punk Stalinists. It was only in the early 1990s – post-Guns N' Roses, rehab rock, Loaded and so on – that it became OK to like them again.
The book starts with skiffle and goes up to the present day. Was it a conscious attempt to tell the whole story of British rock music?
A lot of music writing is about the deification of talent – I hate all that. I thought it was important to explain the roots and branches of this exotic plant. So I talked to people who'd played on hundreds of 1960s sessions with Jimmy Page and John Paul Jones, and so on.
You seem to have interviewed everyone on earth for this book…
Nearly 200 people and I had earlier interviews with Page, Robert Plant and Jonesy in the bank. The sheer number of interviews persuaded me to repurpose it as an oral history, without an overarching narrator.
So, what's your favourite Led Zeppelin song?
'Ramble On' gives me more pleasure than anything else.  A reminder that they're not only the greatest hard rock band of all time but also one of the great soft rock bands. They start doing their acoustic thing, rather beautifully, and then John Bonham's drums kick in and it blows up. Zeppelin had this ability, just through sheer musicianship, to explode out of the speakers.
The Irish Times website has already carried a lengthy review of the book by Kevin Courtney which is well worth reading.
Trampled Under Foot: The Power And Excess Of Led Zeppelin by Barney Hoskyns is published by Faber, £20 on September 6th.