By Roger Park boingboing.net
John Tefteller is a well-known rare blues record collector. In 2013, Tefteller purchased "Alcohol and Jake Blues" by Tommy Johnson (1930), a very rare blues 78 rpm record, on eBay for $37,100.
Tommy Johnson made five records for the Paramount label in 1929 and 1930. Johnson, unrelated to bluesman Robert Johnson, was a little known and very under-appreciated singer/guitar player from Crystal Springs, Mississippi. I love collecting records (mainly 33 rpm). However, being the budget-conscious (i.e. "cheap") record consumer, I will gripe when paying over $37 for a record at Amoeba Music while John Tefteller paid $37,100 for one.
What made this Tommy Johnson blues record so rare? How did Tefteller get into collecting 78 rpm records? What advice does he have for folks wanting to get into collecting 78 rpm records? John Tefteller was kind enough to speak to me and provide insights on the unique world of 78 record collecting.
rarest blues record?
That's not the rarest blues record. It's complicated when you say "rarest." The way I look at it, "rarest" means that only one copy remains in existence. Then, you can call it the "rarest."
What makes these blues 78s so rare today?
In the 1920s and 1930s the companies that produced these records made limited copies of the records for a limited audience. That small audience, through time, either broke, wore the records out or threw them away. The record companies rarely kept any masters and there was no way to trace the purchasing and selling of the music. So, it's made these blues records from that period extraordinarily hard to find.
Everything changed after WWII. There was better record keeping. However, the records from 1926 to 1935, if you can find them today, are super rare.
Back to the "Alcohol and Jake Blues" by Tommy Johnson record, how did you find that?
I had a copy of that record (before the eBay purchase), which was the only [known] copy in existence. But it was really beat up, noisy and distorted. On eBay, I saw that somebody in South Carolina was selling it. He had a picture of it and it was in nice shape. I put in a really "stupid" high bid because here's a chance for me to get another copy of that record. I had no idea what the record would sell for. I knew how rare it was but didn't know how desirable it was. Well, I made it (the winning bid) for $37,100. When it was first listed, the seller was asking $100 for it but within a few days, the price shot up.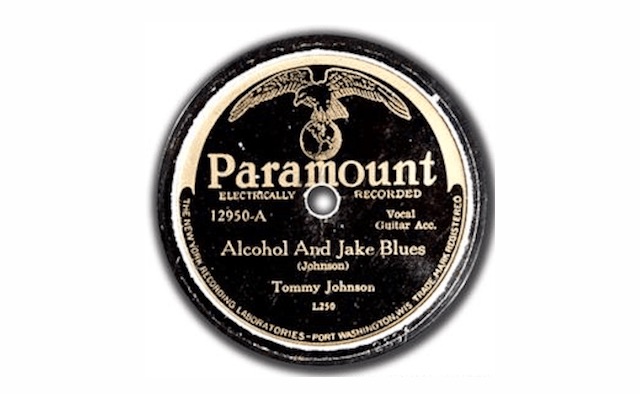 Did the seller of the record realize how rare it was?
I don't think so. The owner bought it at an estate sale for a few dollars. [Note: Tefteller went to South Carolina to pick up the record in person.]
How many records do you own including all the formats: 78, 33, 45 etc.?
My business, World's Rarest Records, has an inventory about half a million records. While my person collection is around 5,000 records.
When did you start collecting 78 rpms and blues 78 rpms?
1972. I was a kid in Jr. High School back then. But it wasn't until the 1980s when I started to collect blues records.
Vinyl album sales in the U.S. have grown for the 13th consecutive year. Any insights on vinyl's popularity?
What I see is that people are tired of music that doesn't come with anything. The music comes off a computer or phone, but it doesn't have a cover to it, photographs, liner notes—there's nothing to attach to other than the music.
The young people buying records like the concept of a visual thing with the listening pleasure. When you combine the two together, it's a more powerful experience than just downloading the song from a computer. Young people are enjoying the option of holding a 33 rpm record or 45 rpm record. There are some companies that are even reproducing 78 rpm records.
Artist Robert Crumb is a famous 78 rpm collector. Any other famous folks who collect 78s?
Keith Richards is a collector. The actor Matt Dillon collects rare pre-Castro era Cuban 78s.
Robert Crumb was a big 78 collector and still has a very diverse collection which includes jazz, jug bands, popular acts, ethnic music, blues, etc. My collection has a focus on blues, rare blues. Crumb is currently really not buying anything these days.
Any advice for folks looking to get into collecting 78 rpms?
There is different advice for folks collecting specific types of records. It's best first-off to limit yourself to things you really like and that are affordable to you. Stay within your ability to buy them.
And for purchasing a 78 rpm record player?
You can get a cheap 78 rpm record player on the market today for $100. But I don't advise you doing that; in fact, you might do more harm to the records. There are players in the $500-600 range that are decent. Then, there are turntables that cost thousands of dollars. I often come across 78 rpms in thrift stores and garage sales. Is that a good way to get into collecting 78s?
I don't recommend collecting the "old way": thrift stores, estate sales, swap meets. You can do that, but you'll be combing through a lot of beat up records in poor condition. That approach to collecting takes a lot of time, patience and dealing with frustrations.
Find out who the 78 rpm dealers are, the honest guys, the ones who specialize in the genre you're looking to collect. Go with them and stick with them.
According to John Tefteller, this You Tube clip above "is taken from the original super beat up copy and poorly equalized. It sounds awful." Tefteller suggests checking out the good-sounding reissues on CD sold on BluesImages.com There are also loads of fantastic blues-related items like CDs, shirts, calendars, posters, etc.