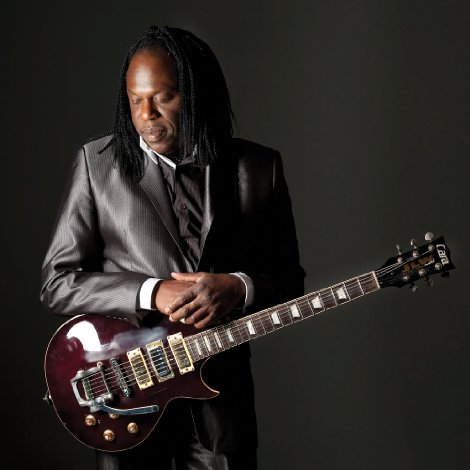 Joe Louis Walker has issued twenty three albums over the past twenty five years. he first came to the attention of blues fans in the UK when Ace Records leased and issued Joe's Hightone album 'Cold Is The Night' in 1986. His first appearances in the UK were electric! Not only had we discovered a brand new blues talent who could write new songs, but also here was a guy who could play stunning slide guitar and lap steel! And he had a great band – The Bosstalkers featuring Bay Area bass player and songwriter Henry Oden.
I well remember on of his early shows at the Half Moon at Putney in London when he tore the place apart. Other great shows followed – one show at a packed the Band On the Wall, Manchester stands out – an I still have a cassette tape of the show.
Another memorable occasion was an invite to a small London recording studio where Joe was working with Otis Grand. Joe had produced Otis' debut album 'Always Hot' . Otis had laid down the tracks for a forthcoing album and were doing mixes and it was fantastic watching them work together. Otis and Joe had been long time buddies and went onto record the recently reissued 'Guitar Brothers' on JSP.
There are few CD albums by Joe that I don't have (alongside  cassettes and vinyl) – my favourites included his 'Live At Slim's' releases.
January 31st see's the release of Joe's debut album for Bruce Iglauer's Alligator outlet. Called 'Hellfire' my preview copy has not been  off the deck since it arrived.
Produced by Tom Hambridge at Nashville's Sound Stage studio, Joe front's a new band Blues Conspiracy including Hambridge on drums, keyboard player Reese Wynans, guitarist Rob McNelley, and bassist Tommy MacDonald.
Joe is also joined by The Jordanaires on a gospel number 'Soldier For Jesus' – Joe had played in gospel groups before his debut with Hightone. The set is being promoted as 'blues-rock', with Alligator aiming at a new audience.
Now the term 'blues-rock' turns off many die-hard blues fans – but as one of that fraternity 'Hellfire' will do for me! Watch this one get nominated for all sorts of blues awards in 2012.
Joe Louis Walker CD Discography:
Cold Is The Night (Hightone, 1986)
The Gift (Hightone, 1988)
Blue Soul (Hightone, 1989)
Live At Slim's, Volume One (Hightone, 1991)
Live At Slim's, Volume Two (Hightone, 1992)
Blues Survivor (Polydor/Polygram, 1993)
JLW (Polydor/Polygram, 1994)
Blues Of The Month Club (Polydor/Polygram, 1995)
Great Guitars (Polydor/Polygram, 1997)
Preacher And The President (Polydor/Polygram, 1998)
Silvertone Blues (Polydor/Polygram, 1999)
In the Morning (Telarc, 2002)
Pasa Tiempo (Evidence Music, 2002)
Guitar Brothers (JSP Records, 2002)
She's My Money Maker (JSP, 2002-03)
Ridin' High (Hightone, 2003)
New Direction (Provogue, 2004)
Playin' Dirty (JSP, 2006)
Witness To The Blues (Stony Plain, 2008)
Between A Rock And The Blues (Stony Plain, 2009)
Blues Conspiracy: Live On The Legendary Rhythm & Blues Cruise (Stony Plain, 2010)
Blues Conspiracy: Hellfire (Alligator, 2012)
DVD:Â 
Live at 'On Broadway' (Blues Express 2001)
Recorded: December 16, 1999 in San Francisco, CA
Ohne Filter, Joe Louis Walker in Concert (inakoustik 2003)
Recorded: June 3, 1991 in Baden Baden, Germany