January 14th to 19th will see US blues artists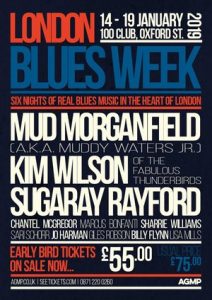 return to London for the London Blues Festival to be held at the 100 Club on Oxford Street.
Kim Wilson and the Fabulous Thunderbirds will play two nights on January 15th and 16th (the latter supported by the great US guitarist and session player Billy Flynn). Sugaray Rayford will play 17th at the 100 Club, London with additional dates on 18th Live Room – Caroline Social Club, Shipley; 19th Great British Rock & Blues Festival, Skegness. Sharrie Williams plays the 100 Club on 18th and Mud Morganfield (son of Muddy Waters) plays the festival on January 19th. He also plays the Eel Pie Club, Twickenham on 16th; 17th Shakedown Blues Club, Peterborough (Gerard Homan tribute gig) and 18th Taulouse Lautrec Jazz Club, Kensington.
Rick Estrin and The Nitecats play Stramash, Edinburgh on January 23rd and the 100 Club on the 24th. Also do not miss Cedric Burnside direct from the Mississippi Hill Country and a member of the famous R. L. Burnside blues dynesty who will play a promo gig on February 12th at Rough Trade East, Old Trueman Brewery, Brick Lane, London where he will be signing copies of a new release. Cedric will also play The Blues Kitchen, Camden on February 14th; The Cluny, Newcastle On Tyne on the 15th and St. Mary's Creative Space in Chester on 17th.