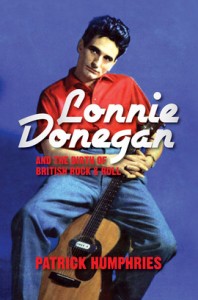 This new biography of Lonnie Donegan by Patrick Humphries Ā is described as "a work of deep research and dedication" and "the story of the man who arguably kick-started the British rock and roll scene and remains one of the most important and inļ¬'uential ļ¬gures in British rock music Ā history".
It is the ļ¬rst full-length biography of the skifļ¬'e king and godfather of British rockā€™nā€™roll.
The book contains numerous revelations about Lonnieā€™s extraordinary life and includes exclusive interviews with Mick Jagger, Mark Knopļ¬'er, Paul McCartney, Brian May, Tim Rice, Bruce Welch, Richard Thompson, Bill Wyman and the late George Melly and John Peel, plus many, many others.
Patrick Humphries has also interviewed Lonnieā€™s ļ¬rst wife and daughter, who were with him during the glory years of the 1950s, and a number of jazz musicians who worked with Lonnie before he broke through, and talk about him for the ļ¬rst time.
Its out on October 29th.