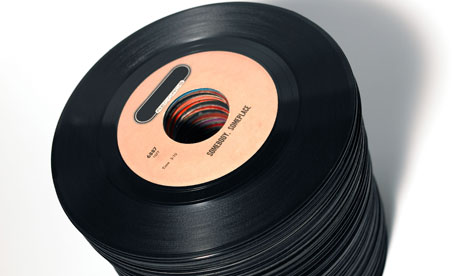 Despite the popularity of digital downloading and a modest resurgence in vinyl album releases, music sales in the United Kingdom declined again for a seventh successive year. According to the latest figures from British Recorded Music Industry (BPI) sales of digital and CDs fell overall by 5.6% to 113.2 million last year. In 2004, 163.4 million albums were sold.
Although digital album sales rose 26.6% to 26.6million, the growth failed to offset the drop in sales of CDs which fell by 12.6% year on year to 86.2million.
A further 389,000 vinyl albums were sold on vinyl and other formats – (not sure what the 'other formats were! – 8 track anyone?)
However CDs still remain the favourite format, accounting for 76.1% of total sales last year, compared with a 23.5% market share for digital and 0.3% for vinyl.
Geoff Taylor, the chief executive of the BPI, said reports of the CD's demise had been greatly exaggerated. "British music fans understand that the album remains the richest way to connect with an artist's work," he said. "Digital developments grab the headlines, but the CD remains hugely popular with consumers, accounting for three-quarters of album sales. Physical ownership is important to many fans and the CD will be a key element of the market for years to come." Good!
The interest in vinyl – notably album reissues, alternative vinyl releases of new recordings and collectable records was reflected recently when BBC 6 Music went 'All Vinyl' on New Years Day to round off a month-long celebration of the vinyl format.
6 Music editor Paul Rodgers said: "In a world dominated by digital music, vinyl is a format still close to the hearts of many music lovers and increased sales demonstrate its enduring appeal."