Music writer and journalist Ben Sandmel's new biography of New Orleans R&B singer Ernie K. Doe is just out. Listed as  'Volume two of The Historic New Orleans Collection's Louisiana Musicians Biography Series' the book traces the history of one of the Crescent City's most colourful musicians.
Ernie K. Doe, or Ernest Kador, or Ernie Cato and other variations on his name was the self-proclaimed 'Emperor of the Universe' cut a number of  New Orleans R&B classics in the early 1960s. He also ran a world famous club – the 'Mother In Law Lounge' and was a mainstay of the New Orleans jazz festival until his death.
Born at Charity Hospital in 1936, K. Doe honed his vocal talents in the city's gospel circuit and in backstreet bars and lounges.
He began recording in 1953 for United Records, recorded for Savoy a year later but really hit the big time in  1961 he rocketed to stardom with the number-one single 'Mother-in-Law' on Minit Records written and produced by Allen Toussaint.
The track became the first recorded by a New Orleans artist to top both the pop and R&B charts.
He continued to wax for Minit (including an album called 'Mother In Law' – which I picked up in a record shop in Stockport in the early 1970s, – they were selling shed loads of cut price imported Minit albums) before joing Duke Records in 1963. He stayed with Duke until 1970 cutting some fine R&B sides, but with little chart action.
In 1971 his little known album on Janus Records contained a track 'Here Come The Girls' – which over thirty years later was used by the retail company Boots for a TV advertising campaign and covered by the girl group The Sugababes.
Sandmel's biography featuring interviews with Ernie, his wife Antoinette Dorsey Fox, their extended family and friends, and over than 100 musicians, including New Orleans giants Allen Toussaint, Aaron Neville and Dr. John.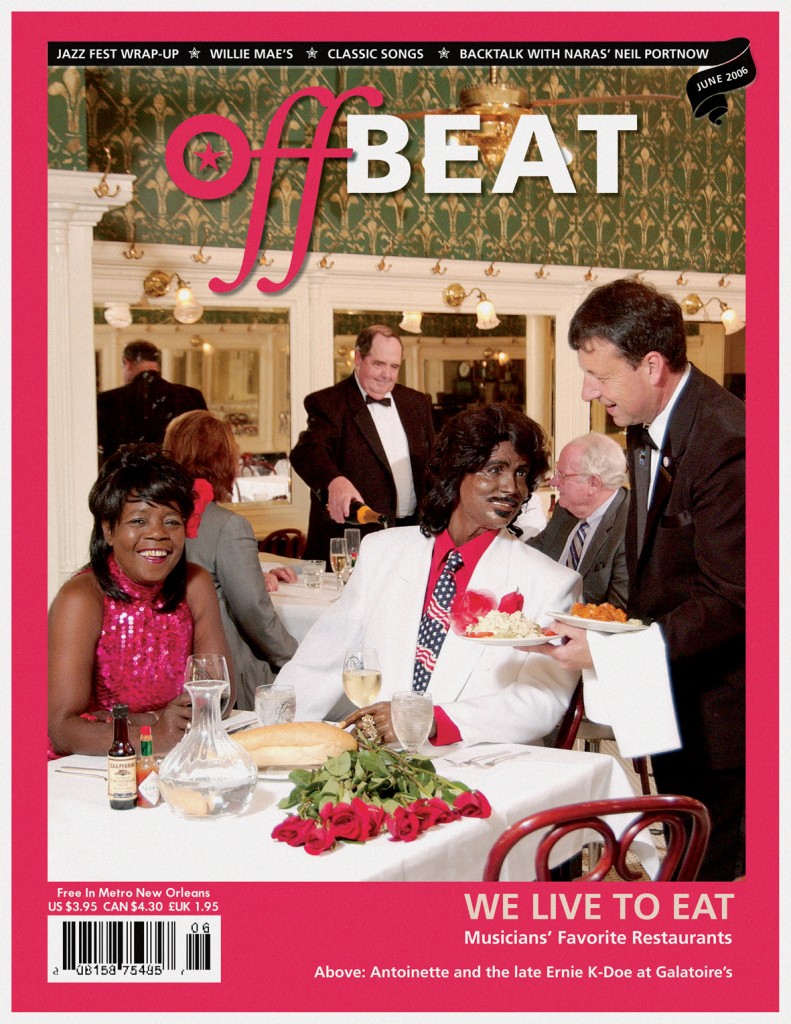 There are also masses of photographs and memorabilia – especially of the inside of his club 'The Mother In Law Lounge', which was badly hit by Hurricane Katrina. Spookily the club had a 'statue' (in effect a life size dummy) of Ernie which his wife had placed outside in a wheelchair and relocated inside the club at various tables. She appeared with the dummy on the cover of the New Orleans magazine 'Offbeat'
The biography is the tale of a singer who was larger than life. He wore outlandish costumes and wigs, issued his own CD's – including one called 'I'm Cocky But I'm Good Just Standin' On Top Of De World' (1990).
From the hits of the early 1960s to relative obscurity and then re-creating an image that made him well loved in is home town 'the Emperor's' larger-than-life personality and unremitting positive outlook makes his story extraordinary.
Check out "Ernie K-Doe: The R&B Emperor of New Orleans," available in the USA from April 11th.