A brand new biography of the great Louis Jordan is out in paperback format on March 18th.
Written by Stephen Koch, 'Louis Jordan, Son Of Arkansas, Father of R&B' is being published by The History Press.
Louis Jordan is regarded by music fans as the real grandaddy of rock and roll and certainly, the father of rhythm and blues.
During the late 1930s through to the 1940's he had a string of hit songs which influenced a host of future R&B stars including Ray Charles, B. B. King, Chuck Berry, James Brown, Bill Haley, The Treniers and countless others.
He was one of Decca Records biggest black stars and entertainers. In the early 1950s he was still recording in the small jump combo style that had kept him recording and touring for two decades for Mercury Records, although the music he gave birth to – rock & roll over took his swinging, jumping style.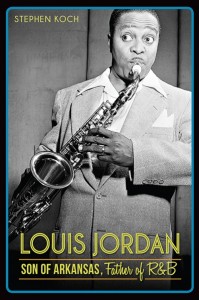 The revival of interest in rhythm and blues in the late 1960s and into the 1970s saw a growth in interest in artists such as Jordan, Roy Milton, Amos Milburn, Wynonie Harris and Roy Brown – and although he never regained the stardom he enjoyed in the 1940s and 1950s, songs like 'Caldonia'. 'Choo Choo C'boogie', 'Ain't Nobody Here But Us Chickens', 'GI Jive', 'Boogie Woogie Blue Plate', 'Jack You're Dead',  can still be heard the world over.
CDs, complete CD box sets and DVDs featuring Jordan's music abound.
I for one hope this biography does the great man justice.