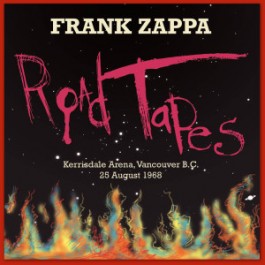 With Zappa Records' and Universal Music's campaign to reissue all of FZ's official album and CDs ending in December, The Zappa Family Trust who control FZ's massive back catalogue and tape archives are to begin a reissue series of live shows starting 'Road Tapes'.
The official Barfko-Swill store is currently accepting pre-orders for the first volume of 'Road Tapes', a series of live concerts in the style of Grateful Dead's 'Dick's Picks' or  Dylan's 'Bootleg Series'.
Volume 1 of 'Road Tapes' come from August 25th, 1968 at Vancouver's Kerrisdale Arena.
Allegedly 'uncirculated' in collectors' circles, this is a Mothers Of Invention Show consisting of Zappa, Ray Collins, Roy Estrada, Jimmy Carl Black, Artie Tripp, Ian Underwood, Don Preston, Bunk Gardner, and Jim 'Motorhead Sherwood.
Chronologically in the Zappa studio discography, this gig falls between the release of 'We're Only In It for the Money' (released March 4th, 1968) and that of 'Cruising with Ruben and the Jets' (released December 2, 1968).
At present it is uncertain whether the 'Road Tapes'Â series will be made available to general retail, or will remain an exclusive at the Zappa Family Trusts Barfko-Swil mail order outlet. Volume 1 is currently selling on pre-release for $15.00 plus shipping. Zappa's wife, Gail has recently confirmed options are still being pursued for the Zappa catalogue.
Gail has confirmed that the Verve compilation 'Mothermania" is due for official reissue on CD. On the  zappa.com website she replied to a question by Don Frith: "That album is coming out shortly. My first obligation was to rerelease the Original Masters in distribution with Warners. But that does not change the Original Official Discography that has always been up at Zappa.com. My next obligation was to reMaster [sic] titles that were in critical condition. There are 22 of those at this time. The rest we may address as we consider HD & vinyl. In some cases, you never know, there may be 2 versions out there. But all of the information you are looking for is at zappa.com."
Also out is a two CD career overview 'Understanding America' which was panned by one critic on Amazon.