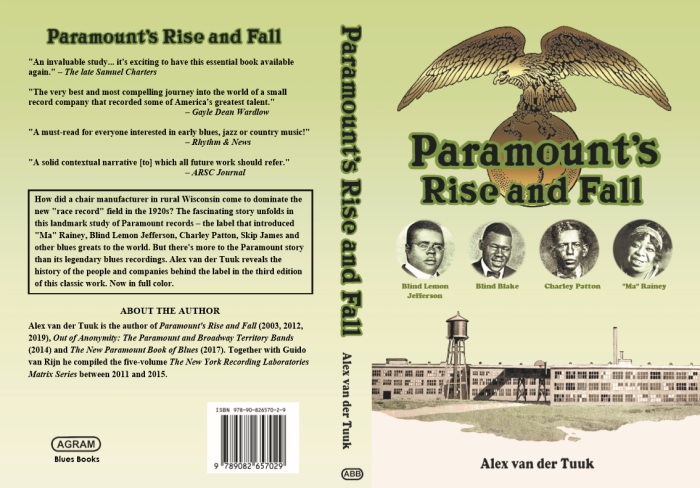 How did a chair manufacturer in rural Wisconsin come to dominate the new 'Äúrace record'ÄĚ field in the 1920s?
The fascinating story unfolds in this landmark study of Paramount records 'Äď the label that introduced Ma Rainey, Blind Lemon Jefferson, Charley Patton, Skip James and other blues greats to the world. But there'Äôs more to the Paramount story than its legendary blues recordings.
Alex van der Tuuk reveals the history of the people and companies behind the label in the third edition of this classic work. Now in full colour.
'ÄúAn invaluable study'Ķ it'Äôs exciting to have this essential book available again.'ÄĚ 'Äď The late Samuel Charters
¬†'ÄúThe very best and most compelling journey into the world of a small record company that recorded some of America'Äôs greatest talent.'ÄĚ
– Gayle Dean Wardlow
¬†'ÄúA must-read for everyone interested in early blues, jazz or country music!'ÄĚ
'Äď Rhythm & News
¬†'ÄúA solid contextual narrative [to] which all future work should refer.'ÄĚ
'Äď ARSC Journal
 ABOUT THE AUTHOR
Alex van der Tuuk is the author of Paramount's Rise and Fall (2003, 2012, 2019), Out of Anonymity: The Paramount and Broadway Territory Bands (2014) and The New Paramount Book of Blues (2017). Together with Guido van Rijn he compiled the five-volume The New York Recording Laboratories Matrix Series between 2011 and 2015.
Product Details
Format:                       Lavishly illustrated full colour paperback
Edition                        Fully revised third edition
Publication Date:      April 2019
Price:                          30 Euros
Publisher:                   Agram Blues Books