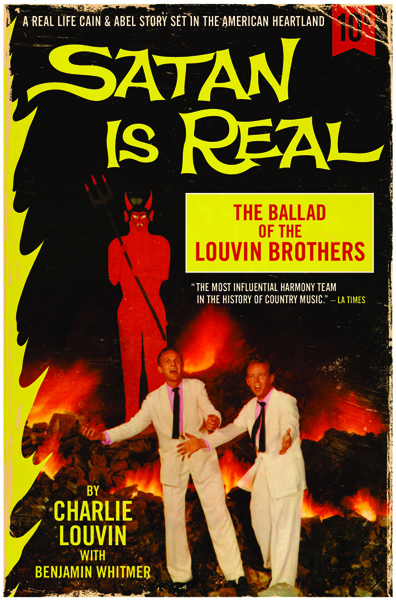 One of the true legends of country and bluegrass music Charlie Louvin died in January, 2011. Prior to his passing he was working on his autobiography for Ignitor Books. Charlie and his brother Ira were one of the great 'brother' and harmony acts of country music and an influence on such artists as the Everley Brothers, Gram Parsons and The Byrd's – who waxed 'The Christian Life' on their classic 'Sweetheart Of The Rodeo' album. Parson's also regularly performed the Louvin's 'Cash On The Barrelhead'.
The Louvin Brothers signed for Capitol Records in 1952 and joined the Grand Ole Opry in 1955. Their songs were influenced by gospel music and the Baptist church. They recorded plenty of 'murder ballads' as well as often warning about the evils of drink, loose living and fornication. One of their classic albums 'Satan Is Real' bears a cover of "Hell" Рactually a homemade backdrop Рbut a classic album nonetheless.
Despite warnings to others to mend their ways, Ira Louvin, a mandolin player, was a serious drinker with a short and violent temper. He was  married  four times Рhis third wife Faye shot him four times in the chest and twice in the hand after he allegedly tried to strangle her with a telephone cord. He survived.
The brothers broke up in 1964, Charlie had had enough of life on the road with his errant brother – each went their own way as soloists. Ira died in 1965 along with his forth wife, when, returning from a gig in Kansas City his car was hit by a drunk driver. At the time of the accident there was a warrant out for Ira's arrest for drink driving.
The¬†Los Angeles Times¬†called them 'Äúthe most influential harmony team in the history of country music,'ÄĚ but singer Emmylou Harris says that 'Äúthere was something scary and washed in the blood about the sound of the Louvin Brothers.'ÄĚ
Now the biography is finally available. 'Satan Is Real: The Ballad Of The Louvin Brothers' is published by Igniter, Harper-Collins. Written with Benjamin Whitmer and featuring a forward by Kris Kristofferson, the book, we are promised, will be loaded with anecdotes and stories about Charlie Louvin and the Louvin Brothers. Stories about love, hate, booze, women and country music.
Light In The Attic Records were sent a complete  full chapter of the book Рso click on the link to check it out.
Also to check out some of the more recent Louvin Brothers reissue CDs and You Tube clips click here. 
In the meantime  give a listen to their 'Satan Is Real' from their 1959 album and get right with God.
UPDATE: Read an interview with Benjamin Whitmer co-author of 'Satan Is Real'.