Lorna Skingley at the BBC is looking for help! She is currently working on a new radio documentary series called 'The People's Songs: The Story of Modern Britain in 50 Records' to be broadcast next year on BBC Radio 2. 
The series is a social history of the UK explored through music. More information can be found by clicking here.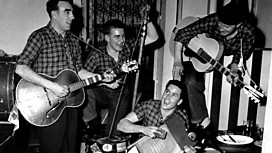 The fourth episode of the series will look at skiffle and people's memories of what life was like, around the time skiffle was prominent.
There's more information on this particular episode here
She needs to chat to people with personal memories of the skiffle era, as part of her research.  From hanging out in coffee bars, listening to skiffle on jukeboxes or playing in bands, to memories of the end of rationing and day to day life in the post-war decade.
If you can help her email address is lorna.skingley@bbc.co.uk
Likewise if you have any initial questions or queries, please don't hesitate to contact her.