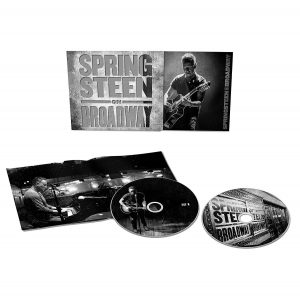 It's 45 years since of Springsteen's debut album 'Greetings From Asbury Park, N.J.' released in 1973. The album sold poorly, but it started of a career spanning years of sell out three-hour stadium gigs and world tours.
Now 69, he undertook a one man residency at the 975 seat Walter Kerr Theatre, on Broadway, playing 236 shows, five nights a week from October 2017 to late November 2017 with additional dates booked through the end of June 2018 and another run between March and December 2018.
He played guitar, harmonica and piano, performing songs for his extensive catalogue interspersing them with reminiscences from his childhood and career. They are humorous, poignant and capture important times in his personal life and musical career. His wife Patti Scalia appeared at most shows duetting with her husband on 'Tougher Than The Rest' and 'Brilliant Disguise'.
Commencing with 'Growin' Up', he talks about his early life – a humdrum existence of school, church, holidays, Christmas, weddings, funerals and green beans!
That was it until a seismic shock hit the collective nervous system of the USA when Elvis appeared on the Ed Sullivan Show in 1956. Springsteen says that if they knew what would going to happen "they would have shut that shit down". It also encouraged the seven years old Bruce to take up 'that thing below the waist' – a guitar.
He says that he never worked in a factory, or worked hard labour and never worked five days a week – "until now". He had never 'raced in the streets', or done the things he sang about – but he says he did have good, tight band.
His songs reflected working class life. His father hated working in a local rug factory, in a car factory, in a plastics factory and as a truck driver.
His recollection of being sent to a local bar to fetch his dad home is a wonderfully told story. He talks about his pride in his mother, who loved dancing to 1940s swing bands and who held down a good job at an insurance company.
The intros and monologues are filled with stories of small town USA. 'My Hometown' recalls a time before the good industrial jobs left the USA and the racial tensions in school. On the intro to 'The Promised Land' Springsteen says: "Jersey was in the boon docks". A place where nobody came and nobody left and runs through the dead end gigs he played in N.J. – drive in movies, weddings, supermarket openings, church halls, before moving to the west coast to try to make it big.
Although the set list and scripted monologues changed little you can feel the sheer emotion on 'Tenth Avenue Freeze-Out' when he is speaking about his friendship with the late E Street Band sax player Clarence Clemons.
The CD contains 'Long Time Comin'' (on which explains his complex relationship with his father) and 'The Ghost Of Tom Joad', both substituted for the duet he performed with Patti when his she took ill.
'Born In The USA' is a eulogy for friends killed in action in Vietnam, delivered with anger and bitterness.
'Tom Joad' has a damning spoken intro on those "in the highest offices of our land who want to speak to our darkest angels, who want to want to call up the ugliest and the most divisive ghosts of America's past, who want to destroy the idea of America for all. That's their intention."
'The Rising', the anthem written for New York fire fighters after '9/11' is taken at a reflective pace, but 'Dancing In The Dark' brings back the good times (even done solo) and is met with a thunderous applause.
Springsteen says his is "an American story – a long and noisy prayer and hopes he has been a good travelling companion" He has. There are not many performers who could pull off a stunning show like this – but as a review of a show many years ago in an English music paper once said "Springsteen delivers."
'Springsteen On Broadway' is the soundtrack to the Netflix film of the same name issued by Columbia as a 2 CD set, or on vinyl as a 4 LP set.