One of Stockport's best loved progressive and heavy rock bands Savory Duck have released two excellent downloadable albums which are available from the band's website and on the usual download music sites.
The Duck sprang from a four-piece heavy rock band called Burial who specialised in covers of tracks by Black Sabbath, Atomic Rooster and US power rock giants Grand Funk Railroad.
In the early 1970s they formed a new progressive rock band Savory Duck based around the guitar, keyboard and song writing skills of Arny Sage.
Their main influences were bands such as Caravan, (the cult Canterbury progressive rock band); prog rock favourites Gentle Giant and Greenslade, the spin off band lead by ex Colosseum organist Dave Greenslade.
The band played a number of well received gigs at Manchester's Stoneground, (supporting Caravan); Bradford University, (supporting ex-Curved Air violinist and keyboards man Darryl Way and his band Wolf) and Stockport Town Hall with guitarist Gordon Giltrap.
They also held down regular gigs at Stockport's Mersey Tavern. A local newspaper report described the band as "Fluid, competent and professionally flawless".
The Duck disbanded in 1976 but played occasional gigs and continued to lay down tracks at a number of studio's including the famous Strawberry Studios in Stockport.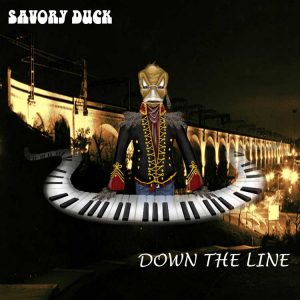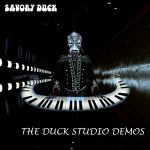 'Down The Line' was recorded at a number of small Manchester studios between 2015 and 2019.
Also issued is a polished album of demo recordings 'The Duck Studio Demo's' cut between 1975 and 1976 at Strawberry Studios with one track 'Variation 55' cut and mixed between 2001 and 2003 at Cavalier Studios in Stockport.
These albums are a must for progressive and heavy rock fans and can be downloaded at the band's website (and they have a Facebook site too) which contains details of the band's ever evolving membership, details of these two albums, recording data, historical band photos and memorabilia.
Not to be missed by fans of 1970s progressive rock.