The San Francisco based record label Tompkins Square will release the first in a series of ¬†78 rpm 10″ vinyl discs to co-incide with Record Store Day¬†on ¬†April 21st
The first two discs will feature previously unreleased recordings from Luther Dickinson of the North Mississippi Allstars and Ralph Stanley. Both 78rpm discs will be released as a limited edition of 500 copies
Luther Dickinson plays medleys of Southern melodies on his 78 disc, including 'Zip-A-Dee-Doo-Dah' / 'Beautiful Dreamer' on the A side and 'Nobody Knows The Trouble I've Seen' / 'Peace In The Valley' on the B side. Ralph Stanley's 78rpm disc  features 'Single Girl', with 'Little Birdie' on the B side.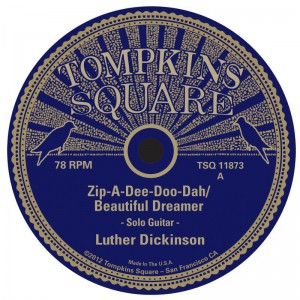 Tompkins Square owner Josh Rosenthal said: "A lot of new turntables now play 78's, and many 78 collectors listen to their records on modern equipment. Tom Waits, Elvis Costello and Nick Lowe have all recently released 78's. So I thought it would be fun to start a line of them."
The label will also release a white label 45rpm of Hiss Golden Messenger's 'Jesus Shot Me In The Head' from the forthcoming album 'Poor Moon', b/w the unreleased 'Jesus Dub' on Record Store Day.
Hiss Golden Messenger's album 'Poor Moon' is set for release April 17th.