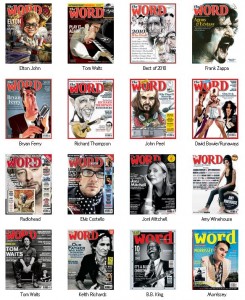 The music monthly magazine The Word is set to produce its last edition says an announcement from editorial director David Hepworth. 
Hepworth put the decision to close down to "dramatic changes in the media and the music business along with general conditions on the market and that includes sales and includes advertising. Much of the money came from the music business and the music business doesn't advertise in the way it used to."
The Word is produced by Development Hell and had a monthly sale of 22,526 in 2011. This compares with an ABC of 30,051 in 2004 when 66 per cent of copies were sold.
The title has won numerous awards and been critically acclaimed.
Editor Mark Ellen described the title's ethos as "we cover rock music, films, books and television for people old enough to still want something substantial to read".
In his statement on the Word website, Hepworth said: "We regret to announce that the August issue of The Word, which will be published in the second week of July, will be the last.
"In the nine years since the magazine launched there have been dramatic changes in the media and the music business. These changes have made it more difficult for a small independent magazine to survive and provide its staff with a living. This hasn't been made any easier by the economic climate of the wider world.
"We would like to thank all the staff members past and present, plus the writers, photographers, illustrators, artists, PRs and advertisers who have helped make the magazine what it has been. We also want to thank the backers who have supported us throughout.
"Most of all we want to thank you, the readers. Your heartfelt involvement with the magazine – via its pages, its website, its events and its podcasts – have made the last nine years one of the most satisfying periods of our working lives. Mark has written about this in greater detail in the August issue
"The website will remain open for the immediate future as a point of contact. We will be writing to subscribers with their copy of the August issue.
"When we came up with that slogan – 'The Word – a magazine, a website, a podcast, a way of life' – we were being a bit tongue in cheek. But it was, wasn't it?"
It is sad to see any music magazine cease publication, however I have always thought that The Word wasn't quite sure what it was supposed to be – with a very diverse content. Plus of course it competed against the highly popular Mojo and Uncut magazines in the niche adult music magazine market.
With general music magazines edging towards a cover price of a fiver a pop in these tough times something had to give.