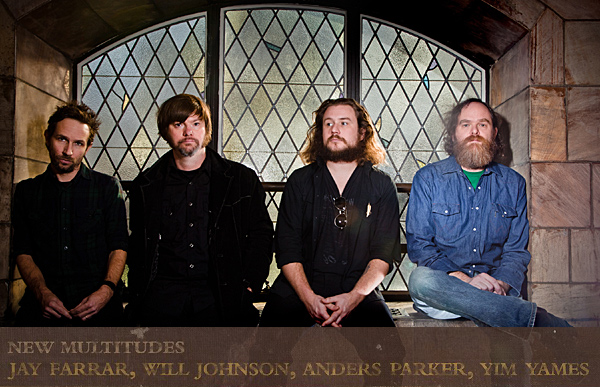 July 14th this year marks the Woody Guthrie Centennial and to celebrate Will Johnson (Centro-matic, South San Gabriel); Jay Farrar (Son Volt, Gob Iron, Uncle Tupelo); Yim Yames (My Morning Jacket, Monsters of Folk) and Anders Parker (Varnaline, Gob Iron)  will tour in support of their album 'New Multitudes' in the Spring. The album is a Woody Guthrie tribute, which will be released on February 28th by Rounder Records as a 12 track release and a 24 track limited edition. 
The limited edition release features Woody's original lyric sheets, the 12 track release, and 12 additional compositions recorded by Farrar and Parker.  The album will also be available on vinyl.
There is also a Facebook page for the group which is currently streaming 'Old L.A.' from the album, featuring Anders Parker on lead vocal. 
The page will also include interview footage, live performance video etc.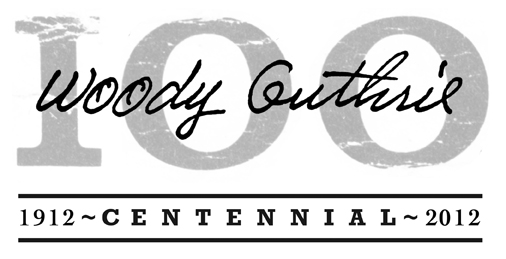 At the invitation of Nora Guthrie, Woody's daughter, to tour the Guthrie archives, each of the four songwriters were offered the chance to plumb and mine the plethora of notebooks, scratch pads, napkins for anything that might inspire them to lend their voices and give the words new life.
"These guys worked on an amazing group of lyrics", says Nora. "Much of it culled from Woody's times in Los Angeles. Lyric wise, it's a part of the story that is still mostly unknown. From Woody's experiences on LA's skid row to his later years in Topanga Canyon, they are uniquely intimate, and relate two distinctly emotional periods in his life."
The spirit of Woody may have been involved in more ways than one, as all four songwriters said the immediate connection to the songs they chose, or as they would suggest, "chose them." The writing came together quickly, as if the mischief muse who originally penned them latched himself to each writer's grey matter upon first contact.
According to the press blurb: "Musically, it is this sense of collaboration that makes 'New Multitudes' not just another trite and traditional acoustic regurgitation of back porch blues. From the ragged jangle of its opening track, 'Hoping Machine', the loping lilt of 'Fly High', the floorboard stomp of 'No Fear', to the lush warmth and sudden sonic gut punch of 'My Revolutionary Mind' they deliver a lesson in discovering a song's sweet spot. It's the function and preparedness of each artist's dogged work ethic gleaned the old-fashion way; veracious songs, road weary odometers, and sweat stained live shows, all attributes of the man they are honouring".
There are undoubtedly going to be a number of tribute events and of course reissues of Woody's massive recording catalogue this year  – but lets kick off with a Woody, Pete Seeger, Cisco Houston and Sonny Terry from a 1940s radio broadcast of 'All You Fascists Bound To Loose'.