Albert King one of the giants of the post war blues scene will be posthumously inducted into the Rock & Roll Hall Of Fame on April 18th this year.
King came to fame in the early 1960s and later became Stax Records' most prominent bluesman.
Born in Indianola, Mississippi, King cut his professional teeth in  St. Louis and recorded for labels such as Bobbin, Parrot, Coun-Tree and Vee-Jay.
However, in 1966 he signed for the Stax team of Al Bell, Jim Stewart and Estelle Axton, and backed up by a songwriting team of Booker T Jones and William Bell and his own distinctive guitar playing Albert King established his place among the front ranks of the top US bluesmen.
Besides touring the US blues circuit, along with his name sakes, Freddie King and B. B. King he also became a firm favourite among young white rock audeicnes in the late 1960s regularly playing Bill Graham's Filmore venues and rock festivals.
To co-incide with Albert's long oversue industion into the Rock & Roll Hall of Fame in Cleveland, the Concord Music Group are reissuing Albert's classic 'Born Under A Bad Sign' album in their Stax Remasters series as a deluxe edition on April 2nd.
King, heavily influenced by pre-war bluesmen such as Lonnie Johnson and Blind Lemon Jefferson, and post-war artists artists such as T-Bone Walker and Howlin' Wolf joined Stax by way of Al Bell, a Little Rock native who had met Albert King when he played shows in the area.
King's first Stax recording 'Laundromat Blues' is included on the reissue set. Backed by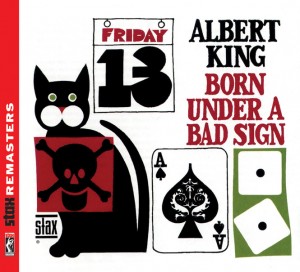 Booker T. Jones on piano; Duck Dunn, bass; and Al Jackson, Jr., drums; plus the Memphis Horns (Wayne Jackson and Andrew Love) and Raymond Hill (sax player on Jackie Brenston's 'Rocket 88), the song had come by way of an unsolicited songwriting demo that Stax co-founder Estelle Axton correctly believed could be a hit for Albert King.
'Crosscut Saw' is one of Albert's best-known recordings as yet which dated back to 1941 when Delta bluesman Tommy McClennan recorded it for Bluebird Records, and Willie Sanders and the Binghamton Boys cut it in 1963. Veteran DJ on the Memphis radio station WDIA A.C. 'Moohah' Williams, brought it to King's attention.
I well remember the song being issued here in the UK on Stax and Albert appearing on the cover of Blues & Soul Magazine complete with slicked down hair and a shiny suit.
Booker T. Jones and William Bell came up with the thundering bass riff that defined the title track 'Born Under A Bad Sign'.
The song made number 49 on the R&B chart in 1967 and soon became a staple of Cream's live shows appearing on their classic 1968 'Wheels Of Fire' album.
Another one of the key tacks on the album 'Oh, Pretty Woman'  was written by WDIA DJ 'Moohah' and is supported by Steve Cropper's rhythm guitar. King also received songwriting help from David Porter, on 'Personal Manager' the B-side of 'Bad Sign'.
The album also includes great covers of Fenton Robinson's 'As The Years Go Passing By' and Ivory Joe Hunter's 'I Almost Lost My Mind'.
The killer selling point to blues fans of the reissue will be the inclusion of previously unissued tracks including alternate takes of 'Bad Sign', 'Crosscut Saw', 'The Hunter', "Personal Manager' and an untitled, never-before-released instrumental.
Track List:Â 1. Born Under A Bad Sign;Â 2. Crosscut Saw;Â 3. Kansas City;Â 4. Oh, Pretty Woman;Â 5. Down Don't Bother Me;Â 6. The Hunter;Â 7. I Almost Lost My Mind;Â 8. Personal Manager;Â 9. Laundromat Blues;Â 10. As The Years Go Passing By;Â 11. The Very Thought Of You;Â 12. Born Under A Bad Sign (Alternate Take 1);Â 13. Crosscut Saw (Alternate Take 1);Â 14. The Hunter (Alternate Take 1);Â 15. Personal Manager (Alternate Take 15);Â 16. Untitled Instrumental