The term 'border radio' refers to the American broadcasting industry that sprang up on Mexico's northern border in the early 1930s and flourished for half a century. High-powered radio transmitters on Mexican soil, beyond the reach of U.S. regulators, blanketed North America with unique programming.
Mexico accommodated these 'outlaw' media operators, some of whom had been denied broadcasting licenses in the United States, because Canada and the United States had divided the long-range radio frequencies between themselves, allotting none to Mexico.
Though the 'borderblaster' transmitters were always in Mexico, studios (especially in the early 1930s) were sometimes in the United States, and the stations were often identified by the American town across the border. For instance, in his classic poem, 'Clem Maverick, The Life and Death of a Country Singer', R. G. Vliet has Clem reminisce: "We was on the radio at Del Rio." Early on, hillbilly music proved to be one of the most effective mediums for pulling mail and moving merchandise; in turn, the border stations played a significant role in popularizing country music during the genre's crucial growth years before and after World War II.
The stations also familiarized American listeners with Mexican and Mexican-American artists. Lydia Mendoza's future husband first heard the 'Lark of the Border' from Piedras Negras station XEPN in 1937. "The highlight of the XER program, for me," recalled a South Dakota listener in 1995, "was the beautiful voice of the 'Mexican Nightingale' Rosa Dom√≠nguez, especially when she would sing 'Estrellita ''ÄĒ this farm boy thought that must be how the angels would sound in heaven."
The first border station, XED, began broadcasting from Reynosa, Tamaulipas, in 1930. Owned for a time by Houston theatre owner and philanthropist Will Horwitz, XED hosted occasional performances by Horwitz's friend Jimmie Rodgers. Horwitz, who dressed up as Santa Claus each year and distributed Christmas presents to Houston's underprivileged children, was sent to prison by the U.S. government for broadcasting the Tamaulipas state lottery over XED.
Dr.¬†John R. Brinkley, originator of the 'goat gland transplant' as a sexual rejuvenation treatment, opened XER (later called XERA) in Villa Acu√Īa, Coahuila, in 1931. Brinkley later bought XED, changing the name to XEAW.
In 1939 he sold XEAW to Carr Collins, Dallas insurance magnate and owner of Crazy Crystals, a laxative product derived from the fabled Crazy Water in Mineral Wells. According to Collins's son Jim, Texas governor (and later U.S. senator) W. Lee 'Pappy' O'Danielqv was part-owner of the station. The Mexican government confiscated XERA in 1941 and tried to confiscate XEAW shortly thereafter, but Collins moved his equipment north of the border.
Engineer Bill Branch and businessman C. M. Bres operated XEPN in Piedras Negras in the 1930s. Iowan Norman Baker, whose experimental cancer treatments made him a controversial figure, broadcast from his station XENT in Nuevo Laredo. Texas governor Miriam 'Ma' Ferguson once dispatched Texas Rangersqv to Laredo to arrest Baker on a charge of practicing medicine without a license, but the defiant broadcaster could not be lured across the Rio Grande.
Border station power generally ranged from 50,000 to 500,000 watts. Sometimes listeners claimed to hear broadcasts without a radio, receiving the powerful signal on dental work, bedsprings, and barbed wire. American network programs were often lost in the ether when a Mexican border station was broadcasting near an American station's frequency.
Hank Thompson, who grew up in Waco in the 1930s, said the American-Mexican stations on the Rio Grande "were about the only ones where you could hear country and western music most all the time." Later, as a navy radio engineer during World War II, Thompson piped border-station programming through his ship on the high seas.
Thompson and other listeners heard Cowboy Slim Rinehart, Patsy Montana, the Carter Family, the Pickard Family, the Shelton Brothers, the Callahan Brothers, the International Hot Timers, Pappy O'Daniel's Hillbilly Boys, Roy 'Lonesome Cowboy' Faulkner,¬†Shelly Lee Alley, and countless others. Performers broadcast live and via transcription disc, sometimes syndicating a show on several of the maverick stations. Border radio pitchman and ad executive Don Baxter, known as 'Major Kord', recorded many artists with this technology in San Antonio. Later, many of the transcription discs were used as roofing material for homes in Acu√Īa and other border-station towns.
Important postwar stations included XEG in Monterrey and XERF in Ciudad Acu√Īa. Webb Pierce, Jim Reeves, and other stars appeared live in the studio with XERF disc jockey Paul Kallinger, known from 'coast to coast and border to border' as 'Your Good Neighbour Along The Way'. In a colourful exaggeration that could hold a nugget of truth, Pierce said that country music "might not have survived if it hadn't been for border radio."
'The Good Neighbour' turned down an appearance on his show by the future 'King of Rock', Elvis Presley. But in the early 1960s, a young platter-spinner from Brooklyn named Bob Smith metamorphosed into XERF's late-night saint of radio naughtiness, Wolfman Jack.
From his border lair the Wolfman tantalized American listeners with rock-and-roll, rhythm-and-blues, and blues. Austin-based musician Joe Ely recalled listening to the Wolfman while drinking beer in Lubbock cottonfields: "It was the first time any of us heard John Lee Hooker, Muddy Waters, Lightnin' Hopkins, Mance Lipscomb, all these guys." Delbert McClinton remembered the border airwave as a mysterious force. "With border radio," he explained, "you could hear race music and funky stuff, and it only existed through this secret channel you could pick up from across the border."
Some border musicians played several roles, such as singing cowboy, evangelist, and pitchman. "Only three things will sell on the border," said Dallas 'Nevada Slim' Turner, "health, sex, and religion."
Often, border radio programming combined all three. The stations also became known for incessant advertisements for 'Hillbilly Flour', 'Crazy Water Crystals', the cold remedy 'Peruna', the hair-dye 'Kolorbak', 'Hadacol', vinyl tablecloths depicting the Last Supper, razor blades, genuine simulated diamonds, ballpoint pens, horoscopes, rose bushes, baby chicks, records, and many other products. Some listeners even claim to have heard commercials for "autographed photos of Jesus Christ."
In 1986 the Mexican government seized XERF, and all border stations were dealt a crippling blow by an international broadcasting agreement between the United States and Mexico that allowed both Mexican and American broadcasters to use the other country's clear-channel frequencies for low-powered stations in the evening.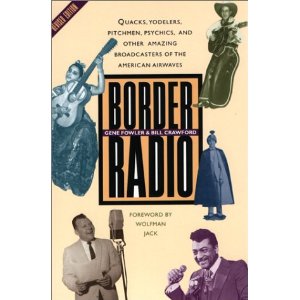 That meant that the signals of the border stations would be drowned out in many communities by local broadcasts. The agreement effectively ended the era of high-powered, far-ranging radio.
It may be, however, that efforts at a revival, in the hands of such enthusiasts as Arturo Gonz√°lez, may succeed. In the early years of the new millennium, Del Rio attorney Gonz√°lez, a force at XERF since the 1940s, was, in his nineties, laying plans to regain control of the station and contacting engineering firms to shop for a new super-powerful transmitter.
'Border Radio: Quacks, Yodelers, Psychics, Pitchmen, and Other Amazing Broadcasters of the American Airwaves' is written by Gene Fowler and Bill Crawford, published by Austin: University of Texas Press, 2002. San Francisco Chronicle, November 29th, 1987.
First published on the Texas State Historical Association website.