Morris Holt, better known to the blues world as Magic Slim, died on February 21st in a Philadelphia hospital at the age of 75.
Just prior to his death rumours had been circulating of  Slim's ill health. In 2009, the last time he played the Burnley Blues Festival in the UK, he played much of the set sitting down, but nonetheless was always willing to talk and have photos taken with his legions of UK fans.
Slim and the Teardrops were one of my all time favourite blues bands. I once described them as 'the best blues band on the planet'. They had an extensive repertoire of blues and R&B that seemed to know no bounds, playing lengthy shows and encores. He played many memorable gigs in the UK and Europe – many of them captured on tape by Slim's biggest UK fan Ray Gardner – as I write this playing in the background is a tape of Slim at the Bishopstock Blues Festival in 2000 which also contains a show in the West Midlands at a gig where he was joined on stage by Robert Plant (Ray Gardner told me Slim didn't really know who Robert was but got him up on stage anyway!).
For four decades he toured the USA and the world with the Teardrops playing gigs almost every night of the week. Among my favourite CDs are live recordings in particular Slim's 'Live At the Zoo Bar' sets cut in Lincoln, Nebraska, where he held down a residency.
Born in Torrance, Mississippi in 1937, he grew up in Grenada, Mississippi. Like many young kids he sang in the church choir and made a guitar with baling wire from a broom, which he nailed to the wall. His played the piano, but having lost the little finger on his right hand in a cotton gin accident he switched to guitar, working in the cotton fields during the week and playing the blues at weekends.
In 1955, like many southern bluesmen Slim migrated to Chicago, where he was mentored by  Magic Sam, who gave the tall and lanky Morris Holt his lifelong stage name. He returned to Mississippi and spent the next five years practicing guitar and teaching his younger brothers, Nick and Douglas (aka 'Lee Baby') to play bass and drums respectively.
In 1967, Slim put his own band together called the Teardrops, which included his younger brothers. Later blues alumni in the Teardrops include Coleman 'Daddy Rabbit' (Alabama Junior) Pettis; John Primer; Nate Applewhite; Pete Allen; Jake Dawson; Earl Howell; Michael Scott and Michael Dotson.
Slim's recording career began with the 1966 release of the song 'Scufflin',' for Ja-Wes Records followed by a small number of singles in the mid 1970's. (Slim's Ja-Wes sides found there way onto a UK budget album 'Authentic Chicago Blues' with sides by Chuck Rives and Little Hite issued by Beacon – you could by them in Woolworth's and Tesco – try finding one now!)
In 1972, he began playing regularly at a Florence's, on the South Side Of Chicago, filling in for Hound Dog Taylor, eventually taking over when Hound Dog left the club.
In the mid 1970's Slim began began touring Europe, and recorded his first album in 1977, 'Born Under A Bad Sign', for the French MCM label. During the 1980's, Slim released albums on Rooster Blues (the mighty 'Grand Slam' Рnot to be missed), Wolf, Delmark, Plymouth House and Blind Pig Records.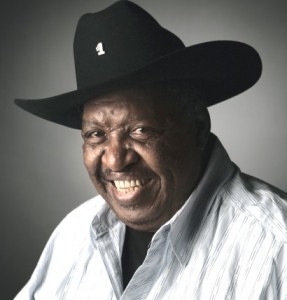 Slim's first album on Blind Pig Records, 'Gravel Road', was released in 1990, which established a long association with the label. Magic Slim and the Teardrops also won countless awards for their recordings and touring and in 2010. Slim and Bling Pig celebrated their twenty years together with the release of 'Raising The Bar'.
The All Music Guide said of him: "Magic Slim turned 75 in 2012, but his growling vocals have the fire and brimstone of a young lion and his guitar playing is still as razor-sharp as it was when he turned pro in the '50s."
Slim and the Teardrops also won many blues awards. For me it was those live shows that went on forever; Ray Gardner's articles and reviews of life on the road in Europe with Slim and the Teardrops (the most memorable being 'Magic Slim Ate My Chips')  and those great live tapes. They were the best blues band on the planet!
The funeral service for Magic Slim will be at Horizons Community Church, 3200 Grainger Parkway, Lincoln, Nebraska on Saturday, March 2nd, 2013 at 10 a.m.
A musical memorial tribute is currently being planned in Chicago, Illinois. The Zoo Bar in Lincoln, Nebraska is also planning a musical tribute. Both tributes will be announced when details are finalised. These memorial tributes will be benefits with all proceeds going to Ann Holt and her family.
For details of Slims recordings click here – although it is still under construction.
The above video is of Slim and the Teardrops recording 'Goin' To Mississipp' at the Blind Pig Chicago Warehouse in April 2002.